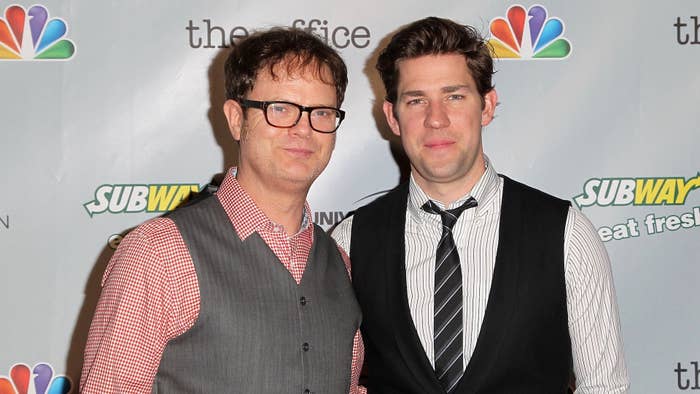 John Krasinski took some time out of his busy schedule this week to chop it up with former co-star Rainn Wilson.
The mini reunion went down Tuesday on the latter's daily Instagram show Hey There, Human, in which he interviews different stars through remote video chat. Krasinksi and Wilson discussed a wide range of topics, including their lockdown experiences, Krasinski's  YouTube channel Some Good News, and of course, their time on The Office. 
"Personally, I think it's best thing I'll ever do in my career," Krasinksi said about his role on the hit NBC sitcom. "Everybody always says, 'At the end of the day, what if you're only know for Jim Halpert?' I was like, 'Are you kidding me? That would be the greatest thing ever.' I remember Steve [Carell], one day he was like, 'You guys know that no matter what we do—we could go to space—and this will always be the thing we're known for,' and how lucky we are that that's the case."
Wilson, who played Dwight Schrute, also recalled that moment.
"[Carell] said that in the first season when we went out to lunch. And that always stuck in my head ..." he said. "He had that premonition, this could be the thing that defines us."
Krasinksi added: "At the time, [Carell] was like, 'We're in that moment. This is something really special.' And, again, I don't know that I'll ever have that collaboration with that many extraordinary and extraordinarily talented people from all those incredible writers. My favorite question I always get is, 'How much did you guys improv?' And I was like, 'Hardly at all.' 'Cause even my looks to the camera were written by the writers. Those people are the most talented folks in the world."
Wilson and Krasinksi not only starred in The Office throughout its eight-year run, they also received producer and directing credits.
You can check out their full interview above. Krasinksi also explains what led him to launch his popular Some Good News series and why he ultimately chose to sell it to CBS.