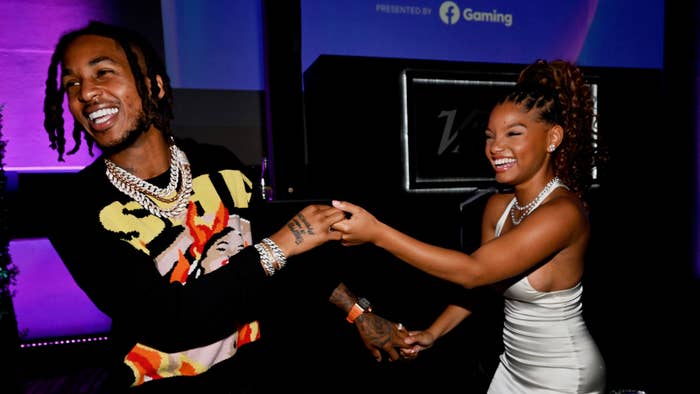 The newly released trailer for The Little Mermaid has triggered bigoted trolls. Immediately after the sneak peek dropped, social media users began questioning why Disney would cast Black actress Halle Bailey to play Ariel—the titular character who was portrayed as white in the original animated film. 
Though the racist reactions have been widely condemned, Bailey's boyfriend insists she isn't letting the hate get to her.
"She be laughing it off, [but] they be going a little too hard," rapper DDG said during an interview on the Bootleg Kev podcast (20:45). "But I feel like the people is more attacking the character rather than her, personally."
DDG went on to say he was surprised by all the controversy and the level of racism on display.
"I didn't know people was this racist. I didn't know this was a thing," he said. "I thought this shit was gone already, I thought that shit was gone! I thought Martin Luther King [Jr.] canceled that shit out! This shit is crazy, I was like 'what the fuck is these n***as talking about?'"
He continued: "But at the end of the day, them motherfuckers are still tapping in. They still gonna watch … It's going No. 1, regardless. And every single Black person in the world is gonna watch."
To no one's surprise, DDG's comments immediately went viral and garnered more criticism from social media users. And, no, it wasn't because he was defending his girlfriend, but because of the MLK comment.
"He definitely could've worded that better lol," one person commented on the Shade Room's Instagram account. 
"Apparently if you are rich you don't get to experience what regular Black folk experience on a daily…," another wrote.
DDG didn't has since responded to the criticism, claiming his comment was serious.
"I was valedictorian in high school. Obviously MLK ain't stop racism … It's called exaggeration lol," he said. "See this what's wrong with our people these days. We attack each other all day every day and no one else. SMH. Y'all have a blessed one."

You can check out DDG's full interview below. The Little Mermaid is set to hit U.S. theaters on May 26, 2023.