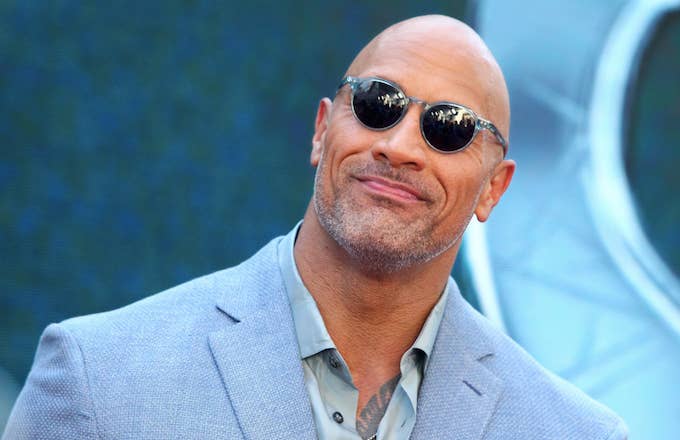 Dwayne "The Rock" Johnson doesn't have any immediate plans to run for U.S. president; however, that doesn't mean he's completely abandoned the idea.
While promoting his new film Skyscraper, the 46-year-old action star spoke about his political ambitions and why he would not run in the 2020 presidential race, despite his massive support.
Johnson explained that two years was simply not enough time to properly educate himself about the position and that he would not feel comfortable taking on the role without any experience.
"Unfortunately I don't see it happening in 2020," he told Vanity Fair about his rumored candidacy. "It's a position that requires years of hard work and experience to learn the skills. There's a lot of ground to cover, and due to my schedule, it's not possible in 2020."
He continued: "I have so much respect for the position. It's something that I seriously considered. What I need is time to go out and learn."
So, perhaps we'll see the former WWE star throw his hat into the ring come 2024? Judging by his recent comments, there's still a chance.
Johnson began hinting at a presidential run back in 2016 and has continued to tease the idea for the past couple of years. In a 2017 GQ interview, Johnson confirmed he was seriously interested in one day becoming the Commander in Chief, but later told Variety that his busy schedule would make it difficult to run in 2020.
"Realistically, as we go into 2018, when you look at my slate as we're developing and shooting into 2019 and 2020, the slate goes deep into 2021, so it feels like the realistic consideration would be 2024," he told Variety in December. "Americans picked it up and there was this sentiment of, 'We're not joking, and we would really love the idea if you would run.' In that, I knew I had to listen to the people and really, really think about it. That's where I'm at right now—I'm well aware politics is not the business I'm in, so the best thing I can do is continuing to listen and learn as much as I can."