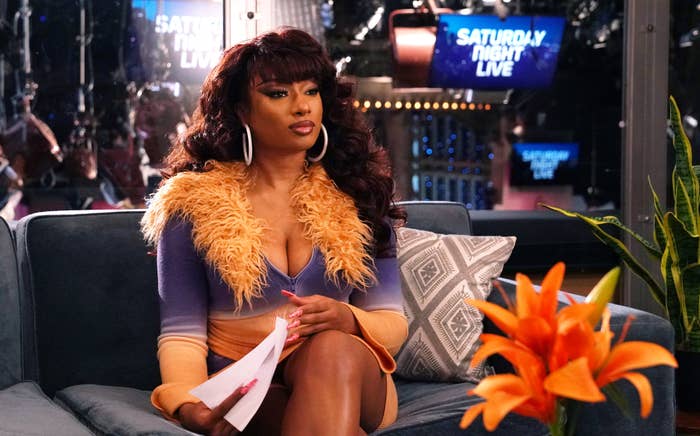 Megan Thee Stallion pulled double duty on Saturday Night Live this weekend, hosting the show for the first time and performing three songs from her latest album Traumazine.
As part of her hosting gig, Megan kicked things off with an opening monologue in which she addressed the removal of her Popeyes Hottie Sauce. She also celebrated earning her bachelor's degree from Texas Southern University last year, before showing off her British accent while asking Netflix to add her to the cast of the streamer's hit series Bridgerton.
Megan wrapped her SNL gig by performing Traumazine cuts "Anxiety," "NDA," and "Plan B," but not before she showed off her comedy chops in seven sketches. This weekend's appearance arrives two years after Megan made her SNL musical debut when Chris Rock hosted the 2020 season premiere.
Megan's SNL episode may be the last time we see her for awhile. It has been reported that her Los Angeles home was robbed while she was in New York preparing to host SNL. Sources say the robbers stole cash, electronics, and jewelry worth between $300,000 to $400,000.
"Material things can be replaced but I'm glad everyone is safe 💙🙏🏾," she wrote on Twitter, later adding, "Hotties I'm really sorry but after SNL I really gotta take a break I'm so tired, physically and emotionally."
Watch all of Megan's SNL sketches below.