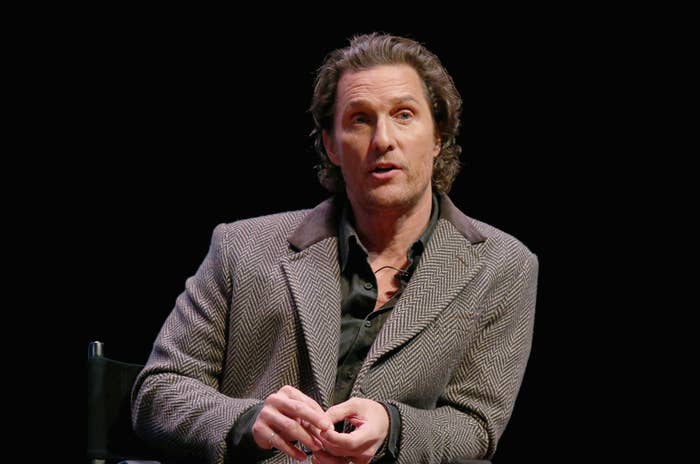 Matthew McConaughey celebrated the Fourth of July by delivering an impassioned speech to America on social media.
In a two-and-a-half minute video posted on Twitter, McConaughey urged his social media followers to focus on "our collective responsibilities" during the July 4th celebrations. 
"As we celebrate our independence today, as we celebrate our birth as a nation, the day that kick-started a revolution to gain our sovereignty, let's admit that this last year, this trip around the sun, was another head-scratcher," he said. 
"But let's also remember that we're babies as a country," the actor continued. "We're basically going through puberty in comparison to other countries' timeline, and we're going to go through growing pains. We are going through growing pains. This is not an excuse, this is just the reality, and this is good, because we got to keep learning, we got to keep maturing, we gotta keep striving, we gotta keep climbing, we gotta keep building. And we gotta make sure we maintain hope along the way, as we continue to evolve."
"I believe that America and you and I — I believe we're an aspiration, right?" McConaughey continued. "We're constantly in motion. We're on the way, trying to get wiser, trying to get braver, trying to dream more, trying to do more, trying to be more fair, take the right kind of responsibilities to gain the right kind of freedoms."
The patriotic speech arrives just four months after the 51-year-old actor said he was seriously considering a run for Texas governor. 
"I'm looking into now, again, what is my leadership role?" he said while appearing on the Balanced Voice podcast in March. "Because I do think I have some things to teach and share, and what is my role? What's my category in my next chapter of life that I'm going into?"
For those doubting McConaughey's political aspirations, consider this: A new poll of registered Texas voters from the Dallas Morning News and University of Texas at Tyler published Sunday showed McConaughey and incumbent Gov. Greg Abbott in a statistical tie, with Abbott receiving 39 percent support, McConaughey getting 38 percent, and 23 percent of respondents saying they would vote for someone else.