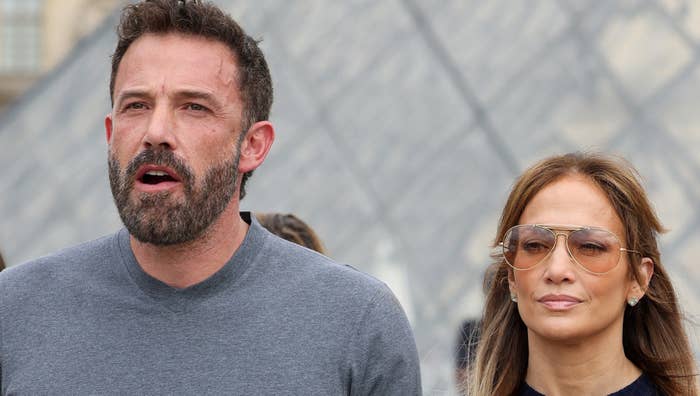 A month after tying the knot in Las Vegas, Jennifer Lopez and Ben Affleck celebrated their wedding this weekend with an official ceremony at the Gone Girl actor's Georgia home.
TMZ reports the affair took place Saturday night at Affleck's 87-acre riverfront estate near Savannah, Georgia. "Lopez wore a white Ralph Lauren gown with a long, flowing train and veil at Saturday's ceremony, with Affleck in a tuxedo with a white jacket and black pants," People wrote. 
The event featured a star-studded guest list that included Matt Damon and his wife Luciana, director Kevin Smith and his wife, Jennifer, Clerks actor Jason Mewes and his wife, Jordan Monsanto, and Affleck's Hollywood agent Patrick Whitesell.
The news arrives several months after Lopez opened up about her relationship with Affleck in an interview with People.
"It's a beautiful outcome that this has happened in this way at this time in our lives where we can really appreciate and celebrate each other and respect each other," Lopez shared. "We always did, but we have even more of an appreciation because we know that life can take you in different directions."
Lopez added, "We have been in the game in the public eye long enough to know who we are as people and what really matters and what doesn't matter. We have kids and we respect each other. … We really live our lives in a way we can be proud of and our kids can be proud of you. We're just operating from a place of love and respect for everyone in our lives and that is very important to us. We know what the truth is [and] we hold it sacred."
After meeting on the set of their 2003 film Gigli, Lopez and Affleck got engaged in January 2004. They subsequently broke off their engagement, before rekindling their romance in May of 2021. A year later, in April 2022, months after Affleck alluded to his relationship with Lopez in a December 2021 interview with WSJ Magazine, the couple announced their engagement.
Back in July, Lopez and Affleck filed for a marriage license in Clark County, Nevada, as the couple exchanged vows in a small ceremony in Las Vegas.