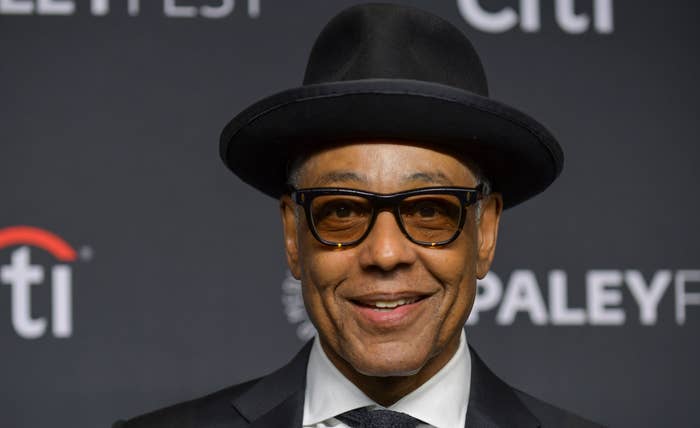 In a new interview with Insider, Giancarlo Esposito, who plays Gus Fring in AMC's Breaking Bad and Better Call Saul, revealed that series creator Vince Gilligan might be ready to explore his character's origin story in a potential spin-off. 
"The last days [on set of Better Call Saul], I'm tearing up and looking over my shoulder and I hear Vince say, 'You never know,'" Esposito said of the possibility of Fring headlining his own spin-off series. "And so, I've always wanted, and felt like, there's room for material for the rise of Gus. I feel like it'd be interesting to know where he came from."
While Breaking Bad did explore Fring's origin story to some degree, Esposito clearly thinks there's potential for a deeper dive into what makes the drug lord tick. "I feel like he came from a really wealthy family, had the opportunity to run, not only the family, but government in another country," he added. "He had that kind of brain, that charisma, that stature, and he traded it in because he wanted to be his own man. There's something fascinating to me about that."
During an appearance on Complex's Watch Less podcast in July 2020, Esposito reflected on what it's been like to play Gus Fring, admitting that he was ready to finally say goodbye to the character.
"It is very weird, because I thought I was done," he said at the 47:20 mark of the episode. "It wasn't a ploy for money or anything else, when I had that moment in time where I was… Do I really wanna go back and do this again? I think about a lot of things, do I want this character to define my whole career?"
While Esposito said it would be "nice to finally release Gus into the ether," it appears as though he's changed his tune. 
"I would consider and think about that particular scenario because I think it's another moral tale that allows us to view into humanity and into how we push our humanity aside and to be demonstrative and to say who we are and we lose everything in the process, because we know where Gus ends," Esposito said about signing up for a Fring-centric show. "We don't know where he began."
The sixth and final season of Better Call Saul, which will feature appearances from Bryan Cranston and Aaron Paul, premieres on April 18 on AMC. Watch the trailer below.