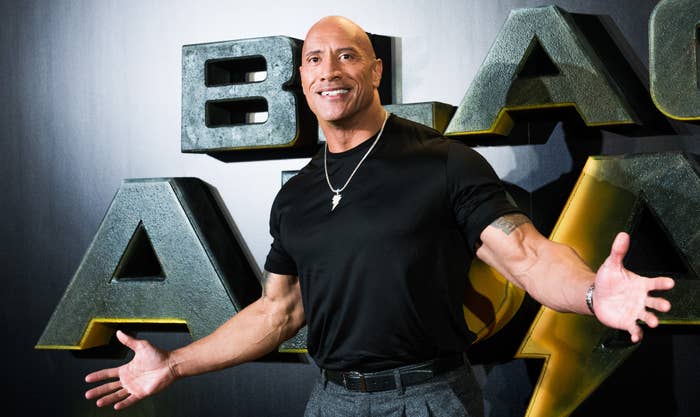 Black Adam fans will have to remain patient while waiting for a sequel to the Dwayne Johnson-starring DC film.
The Rock took to Twitter on Tuesday to update fans on the future of Black Adam in light of DC Studios' recent leadership change. In November, Warner Bros. announced that DC Studios will be led by filmmaker James Gunn and producer Peter Safran.
"My passionate friends, I wanted to give you a long-awaited Black Adam update regarding the character's future in the new DC Universe," Johnson wrote in a statement. "James Gunn and I connected, and Black Adam will not be in their first chapter of storytelling. However, DC and Seven Bucks have agreed to continue exploring the most valuable ways Black Adam can be utilized in future DC multiverse chapters."
"James and I have known each other for years and have always rooted for each other to succeed," he continued. "It's no different now, and I will always root for DC (and Marvel) to win and WIN BIG. You guys know me, and I have very thick skin—and you can always count on me to be direct with my words. These decisions made by James and DC leadership represent their vision of DCU through their creative lens."
Gunn quote-tweeted Johnson's post, adding, "Love @TheRock & I'm always excited to see what he & Seven Bucks do next. Can't wait to collaborate soon."
Johnson's remarks come on the heels of rumors that the Rock had unfollowed both Warner Bros. and the Black Adam social media accounts. Johnson shut down the rumors in a tweet over the weekend.
"100% not true," he wrote. "Never followed either account on IG."
Earlier this month, Wonder Woman director Patty Jenkins and Superman star Henry Cavill both steppedback from their respective franchises amid the DC Studios shakeup.
Last week, Jenkins hopped on Twitter to clarify reports that she was pushed out of the Wonder Woman franchise. "This is simply not true," she wrote. "I never walked away. I was open to considering anything asked of me. It was my understanding there was nothing I could do to move anything forward at this time. DC is obviously buried in changes they are having to make, so I understand these decisions are difficult right now. I do not want what has been a beautiful journey with WW to land on negative note. I have loved and been so honored to be the person who got to make these last two Wonder Woman films."
Meanwhile, in a statement on Instagram last Wednesday, Cavill announced he will not remain in the DCEU to play Superman—though Black Adam and its aftermath gave fans direct reason to expect his return.
"I have just had a meeting with James Gunn and Peter Safran and it's sad news, everyone," Cavill wrote. "I will, after all, not be returning as Superman. After being told by the studio to announce my return back in October, prior to their hire, this news isn't the easiest, but that's life. The changing of the guard is something that happens. I respect that. James and Peter have a universe to build. I wish them and all involved with the new universe the best of luck, and the happiest of fortunes."