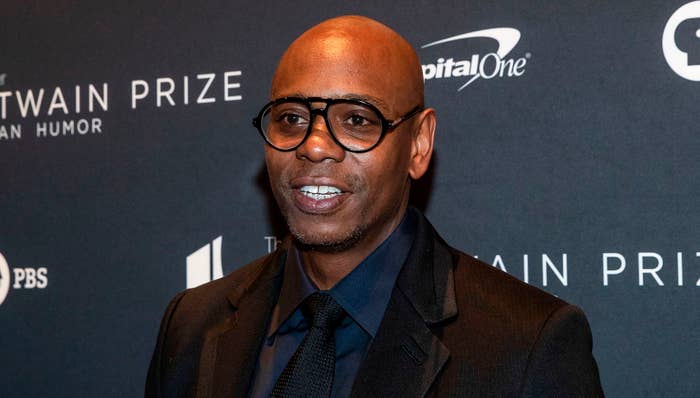 Fresh off performing a few shows at Madison Square Garden to kick off his It's A Celebration Bitches Tour, Dave Chappelle celebrated his 50th birthday this week with a star-studded bash at New York City's legendary Comedy Cellar.
According to Page Six, the party went down on Wednesday night, hours after Chappelle performed the second of four shows at MSG. Among those in attendance were Chris Rock, T.I., Chance the Rapper, Timbaland, Justin Timberlake, Angela Bassett, Jon Hamm, Aziz Ansari, Jeff Ross, and Donnell Rawlings, among others.
"It's rare that the Cellar would ever do a private party like this, but for Chappelle, he is considered family," a source told the outlet.
Chappelle will finish his stint at MSG with a performance on Saturday night, before he hits the road for shows in Cleveland (Sept. 8), Detroit (Sept. 9), Lexington (Sept. 12), Indianapolis (Sept. 13), New Orleans (Sept. 15), Kansas City (Sept. 17), Omaha (Sept. 18), Nashville (Sept. 21), Saint Paul (Sept. 23), and Chicago (Oct. 4).
As Chappelle continues his latest stand-up tour, students at Montreal's Concordia University will get a chance to learn about the comedy icon in a new course professor Yassin "Narcy" Alsalman is leading this fall.
"So we're gonna go through The Chappelle Show, we're gonna watch some of his specials," Alsalman shared back in May. "I'm gonna do a Black Star class, I'm gonna do a The Roots class, I'm gonna do an Erykah Badu class, a Soulquarians class, and talk about just the juxtaposition of the responsibility of comedy in music, and then the consumption of Black performance and what does that mean in North America."