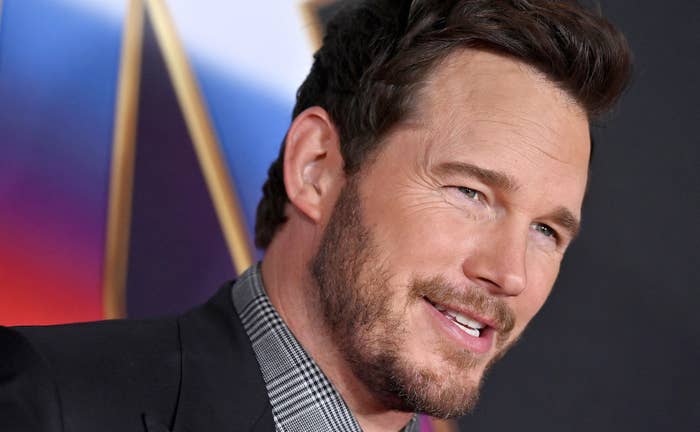 In a new interview with Men's Health, Chris Pratt opened up about the backlash he received last fall after people accused him of dissing his previous wife Anna Faris and their son, who was born with health issues.
Back in November, Pratt took to Instagram to share a birthday tribute to his wife, Katherine Schwarzenegger. The couple welcomed their first child together, a daughter named Lyla, in August 2020. In the post, the actor thanked Katherine for giving him "a gorgeous healthy daughter."
Some observers considered this an indirect insult toward his and Faris' son Jack, who was born premature and has suffered health complications as a result. (In her memoir, the Scary Movie actress recalled a doctor informing them newborn jack had "severe brain bleeding and there was a chance that he could be developmentally disabled.")
"I said something like, 'Find someone who looks at you the way my wife looks at me,'" Pratt recalled. "And then I gave her some shit in the thing and said, 'But I love you. I'm so thankful for my wife—she gave me a beautiful, healthy daughter.' And then a bunch of articles came out and said, 'That's so cringeworthy. I can't believe Chris Pratt would thank her for a healthy daughter when his first child was born premature. That's such a dig at his ex-wife.'"
Pratt continued, "And I'm like, That is fucked up. My son's gonna read that one day. He's nine. And it's etched in digital stone. It really fucking bothered me, dude. I cried about it. I was like, I hate that these blessings in my life are—to the people close to me—a real burden."
The Jurassic World went on to say that, while he knows how to confront backlash that originates on social media, it's "not a lesson that my son has learned yet."
Granted, prior to the aforementioned post about his "healthy daughter," Pratt had previously acknowledged his son's health issues, most notably in 2014 at a March of Dimes Celebration of Babies.
"I made promises in that moment about what kind of dad I wanted to be and I just prayed that he'd live long enough that I could keep them," Pratt said. "Our Jack went from a small, helpless little squirt to a strong, smart, happy, funny, beautiful boy who loves monster trucks and Daniel Tiger, and, believe it or not, loves vegetables. Broccoli and cherry tomatoes are his favorite foods."
When Pratt spoke on a separate controversy in Men's Health—his choice to tell an MTV Movie & TV Awards crowd that god is "real," "loves you," and "wants the best for you"—writer Mickey Rapkin said the words came "spilling out in an emotional tidal wave."
"Maybe it was hubris. For me to stand up on the stage and say the things that I said, I'm not sure I touched anybody. Religion has been oppressive as fuck for a long time," Pratt said. He continued, "I didn't know that I would kind of become the face of religion when really I'm not a religious person. I think there's a distinction between being religious—adhering to the customs created by man, oftentimes appropriating the awe reserved for who I believe is a very real God—and using it to control people, to take money from people, to abuse children, to steal land, to justify hatred. Whatever it is. The evil that's in the heart of every single man has glommed on to the back of religion and come along for the ride."
As for his alleged connection to the celebrity church Hillsong, which has been slammed for an anti-LGBTQ agenda, the Guardians of the Galaxy star said for the first time, "I never went to Hillsong. I've never actually been to Hillsong. I don't know anyone from that church." Pressed on why he hasn't acknowledged it sooner, he said, "I'm gonna, like, throw a church under the bus? If it's like the Westboro Baptist Church, that's different."
Read the full feature here.