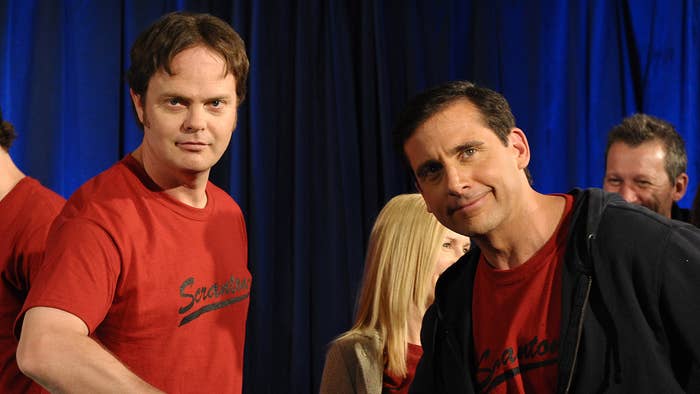 The Office is one of the most-streamed shows on Netflix, even if it is leaving the platform in 2021. Fans have been rewatching the comedy for years, and now one lucky devotee will have the opportunity to get paid $1,000 to watch 15 hours of tales from Dundler-Mifflin. Dish is looking for someone to complete those 15 hours over nine days, a feat countless Netflix viewers have undoubtedly achieved.
"Do you think watching The Office is cool? Do you think doing alcohol is cool?" the job listing reads. "It seems like yesterday Michael Scott hit Meredith with his car, and Jim put Andy's phone in the ceiling. Believe it or not, The Office has been around for 15 years this March. To celebrate its anniversary, USDish.com is teaming up with one die-hard fan to watch 15 hours of The Office for $1,000. Got caught in a pyramid scheme with the son of the deposed king of Nigeria? This isn't a case of Scott's tots. When we say we'll pay you $1,000 to watch about 15 hours, we mean it."
To hit that goal means taking in about 45 episodes. The viewer will need to complete a checklist of "common tropes" that recur. "For instance, how many times does Stanley roll his eyes at the camera?" the listing demonstrates. "How often does Phyllis talk about Bob Vance from Vance Refrigeration? The goal is to help us understand how often sitcoms repeat popular tropes."
While "general guidelines" will be provided in order to properly track the viewing experience, Dish also wants the applicant to share their thoughts on social media. The person who gets paid to watch the beloved show will also receive The Office merch and a Netflix gift card. To boost chances, applicants can include a video submission. Dish previously held a similiar opportunity in which they hired someone to watch 13 Stephen King films.
Applications are open until Monday, March 16.