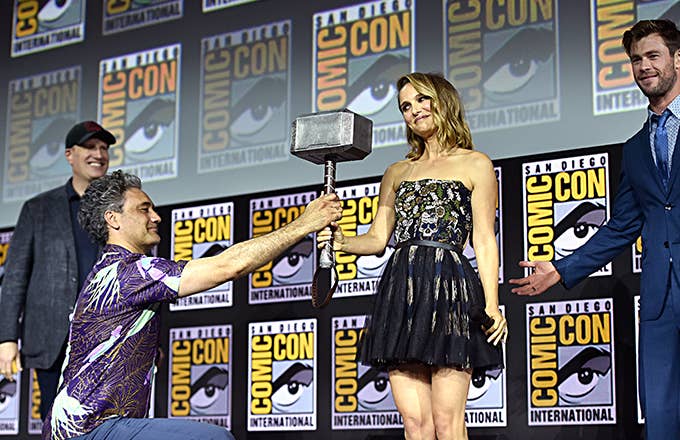 Natalie Portman starred as Dr. Jane Foster in Thor and its 2013 sequel Dark World, but she was notably absent for the third (and best) entry, Ragnarok. However, she'll be making her return to the Marvel Cinematic Universe alongside Chris Hemsworth in 2021 for Thor: Love and Thunder, with Ragnarok director Taika Waititi also on board.
In an interview with Entertainment Tonight, Portman finally opened up on why she's returning to the franchise following her absence.
"They came to me with the idea and said, 'We have this idea for you that was a storyline in some of the comics where Jane becomes Lady Thor,' and I was like, 'This is very exciting,'" Portman explained. "Obviously, I wasn't written into [Thor: Ragnarok] because of where it took place. It wasn't really on Earth, and my character is on Earth."
She added that she is looking forward to working with Waititi, so his involvement in revitalizing the series into what it is today likely had something to do with her decision, too. "I love Tessa [Thompson] and Chris [Hemsworth] so much, so it's exciting to work with them again," she said. "And I'm very excited to wield the hammer."
Marvel first announced Portman's return to the series at San Diego Comic-Con this year. "It feels pretty good," she said upon accepting Thor's hammer from Waititi on stage. "I've always had hammer envy."
Portman previously indicated she was "done" with Marvel movies, but thankfully she changed her tune somewhere down the line. When asked about Jane's absence in Ragnarok in 2017, Hemsworth remarked the movie was about Thor "being a solo cowboy" in space.