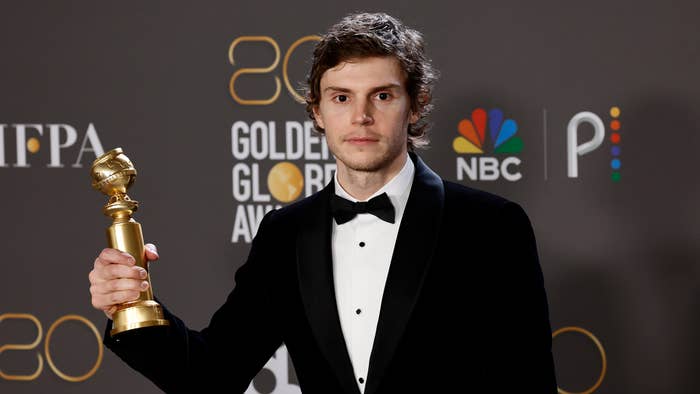 The mother of Jeffrey Dahmer victim Tony Hughes has criticized Evan Peters following his Golden Globe win for his portrayal of the serial killer.
In comments provided to TMZ, Hughes' mother Shirley said that she hoped Peters would have mentioned the families impacted by Dahmer's crimes during his acceptance speech at the show earlier this week. She also said that she hopes Hollywood will stop making shows and movies about real-life serial killers, which undoubtedly has an impact on the families of victims. 
Peters walked home with the Golden Globe Award for Best Actor in a Miniseries or Television Film for playing Dahmer in the Ryan Murphy-produced Netflix series, Dahmer – Monster: The Jeffrey Dahmer Story.
In his speech, Peters thanked Netflix and Murphy, the cast and crew, and viewers for watching the show despite its "difficult" subject matter. "I sincerely hope some good came out of it," said Peters, who previously said he went "back and forth" on whether to take on the "incredibly dark" role. Shirley, however, believes that nothing good has come from the show and it has only contributed further grief to families still reeling from loved ones lost to Dahmer, who killed seventeen men and young boys between 1978 and 1991. 
"There's a lot of sick people around the world, and people winning acting roles from playing killers keeps the obsession going and this makes sick people thrive on the fame," said Shirley, who questioned why Peters took on the role. "It's a shame that people can take our tragedy and make money. The victims never saw a cent. We go through these emotions every day."
Aside from Peters' win at the Golden Globes, the show also picked up nominations for Best Supporting Actress for Niecy Nash, Best Supporting Actor for Richard Jenkins, and Best Limited or Anthology Series or Television Film. The Netflix series has garnered plenty of acclaim, and became the streaming platform's second most-watched series ever in October of last year.