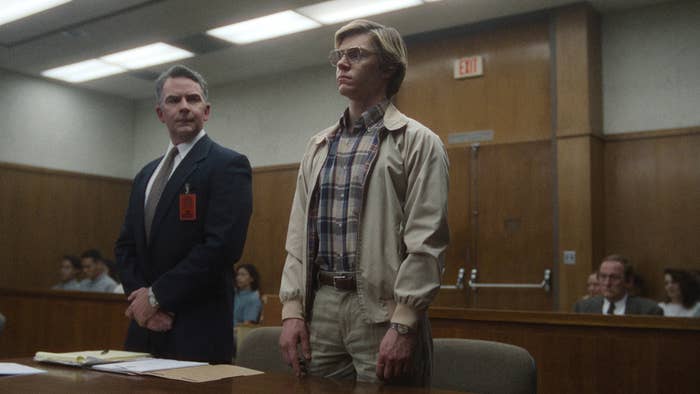 Netflix's biographical serial killer drama Dahmer: Monster – The Jeffrey Dahmer Story is now the streamer's second most-watched series ever, Deadline reports
The Ryan Murphy-produced show pulled in another huge week in terms of hours watched, putting it just behind the fourth season of Stranger Things on Netflix's all-time list. In its third week of availability, Dahmer brought in 205.33 million hours viewed, bringing its total to 701.37 million hours viewed. Stranger Things 4, meanwhile, brought in a total of 1.35 billion hours viewed in its first month on Netflix.
Starring Evan Peters as the infamous Wisconsin serial killer, who was convicted in 1992 of 15 of the 16 murders he committed in his home state, the show has proved massively popular but also controversial. The mother of Tony Hughes, one of Dahmer's victims, recently criticized the show for its exploitative approach to Dahmer's murders.
"I don't see how they can do that," Shirley Hughes told The Guardian. "I don't see how they can use our names and put stuff out like that out there." She also noted that her son's murder at the hands of Dahmer in 1991 "didn't happen" the same way it was depicted in the show. 
Eric Perry, who is the cousin of Dahmer victim Errol Lindsey, also revealed on Twitter that Netflix did not consult or notify the families of his victims. "Ok, I did not expect that tweet to get this much attention. To answer the main question, no, they don't notify families when they do this. It's all public record, so they don't have to notify (or pay!) anyone. My family found out when everyone else did," wrote Perry. "My cousins wake up every few months at this point with a bunch of calls and messages and they know there's another Dahmer show. It's cruel."
When Dahmer was arrested in July, 1991, he confessed to 17 killings, per a 1992 Associated Press report. He admitted that he engaged in cannibalism, and necrophilia with some of his victims. Dahmer was beaten to death by a fellow inmate at the Columbia COrrectional Institution in Portage, Wisconsin in November, 1994.