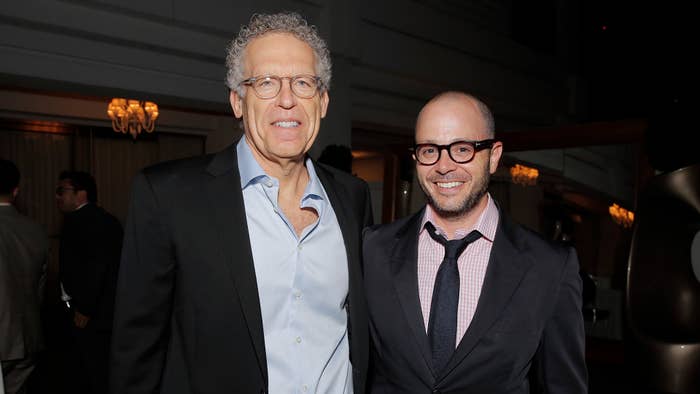 Following the publication of an excerpt from journalist Maureen Ryan's book Burn It Down: Power, Complicity, and a Call for Change in Hollywood, Damon Lindelof and Carlton Cuse have addressed allegations they fostered a racist and "relentlessly cruel" culture in the writers room when they served as the showrunners on Lost.
In the excerpt from the book published by Vanity Fair on Tuesday, many people involved with the landmark ABC drama alleged that the two heads of the show failed to create a safe or welcoming environment for writers and actors of color. Writer Monica Owusu-Breen worked on the third season of Lost and described the atmosphere as "nakedly hostile" during her time on the series. "There was no way to navigate that situation," she said. "Part of it was they really didn't like their characters of color."
In speaking with Ryan, showrunner Lindelof admitted some failures while leading the writers room but didn't recall specific instances of alleged racism. "My level of fundamental inexperience as a manager and a boss, my role as someone who was supposed to model a climate of creative danger and risk-taking but provide safety and comfort inside of the creative process—I failed in that endeavor," Lindelof said when they spoke in 2021. "I was like, okay, as long as there are one or two [writers] who don't look and think exactly like me, then, then I'm okay. I came to learn that was even worse."
Lost featured a diverse cast of characters, but writers of color said they had trouble getting the writers room to dedicate as much thought and care to the stories of characters such as Michael, a single Black father who was suddenly written off in Season 2. Harold Perrineau, who portrayed the character, confronted Cuse and Lindelof over the apparent lack of concern Michael showed for his kidnapped son.
"I don't think I can do that," Perrineau said he thought at the time. "I can't be another person who doesn't care about missing Black boys, even in the context of fiction, right? This is just furthering the narrative that nobody cares about Black boys, even Black fathers." When he voiced his concerns to the showrunners, they didn't agree with him and told him he was not the focus of the episode. Just as Season 2 was coming to a close, he was informed he would not be returning (although he later did for several episodes in Season 4). Sources said that Lindelof said of Perrineau's exit, "He called me a racist, so I fired his ass."
Owusu-Breen said "everyone laughed" when Lindelof made the comment. "There was so much shit, and so much racist shit, and then laughter," Owusu-Breen added. "It was ugly. I was like, 'I don't know if they're perceiving this as a joke or if they mean it.' But it wasn't funny. Saying that was horrible." Another writer, Melinda Hsu Taylor, claimed that Lindelof and Cuse got "tense" when she and Greggory Nations penned the well-received episode Ab Aeterno," and Cuse allegedly told one actor he "wrote most of that script." Cuse denied the accusation.
Meanwhile, former staff writer Javier Grillo-Marxuach corroborated some of the stories in a tweet. "I don't have to pretend any more," he wrote.
Ryan spoke with Lindelof a second time in 2022, and when he was asked about the stories regarding Perrineau's experience he was apologetic but did not recall "ever" making the remark about firing him. "It breaks my heart that that was Harold's experience," he said. "I'll just cede that the events that you're describing happened 17 years ago, and I don't know why anybody would make that up about me."
He said that by the time the second season was in production, a lot of the cast had "expressed some degree of disappointment that they weren't being used enough," which he said was "kind of part and parcel for an ensemble show." He admitted, however, there was a big focus on Jack, Kate, Locke, and Sawyer—all of whom are white characters. He noted how quickly Malcolm David Kelley, who played Michael's son Walt, aged between seasons, contributed towards the decision to write off the characters. But he still has "deep and profound regrets" about the way he handled the storyline. "I do feel that Harold was legitimately and professionally conveying concerns about his character and how significant it was that Michael and Walt—with the exception of Rose—were really the only Black characters on the show," he added.
Owusu-Breen recalled another incident of racism after she was one of the writers assigned to kill off Adewale Akinnuoye-Agbaje's character Mr. Eko when he wanted to leave. He was killed by the show's then-mysterious Smoke Monster in Season 3, but Cuse allegedly asked for a much different ending for Mr. Eko.
"Carlton said something to the effect of, 'I want to hang him from the highest tree. God, if we could only cut his dick off and shove it down his throat,'" Owusu-Breen told Ryan. "At which point I said, 'You may want to temper the lynching imagery, lest you offend.' And I was very clearly angry." In a response, Cuse denied making the comments. "This exchange never happened," he said. "To further add to this lie and suggest that someone was fired as a result of a statement that I never made is completely false."
Cuse said that he wasn't present for some of the alleged instances of racism and toxicity, but he "deeply regret[s]" that anyone on the show's staff was subjected to them. "They are highly insensitive, inappropriate, and offensive," he said.
Ryan's book promises to tell more behind-the-scenes stories from popular series such as Saturday Night Live. It'll be available to purchase on June 6. The full excerpt on the toxicity behind-the-scenes at Lost can be read here.