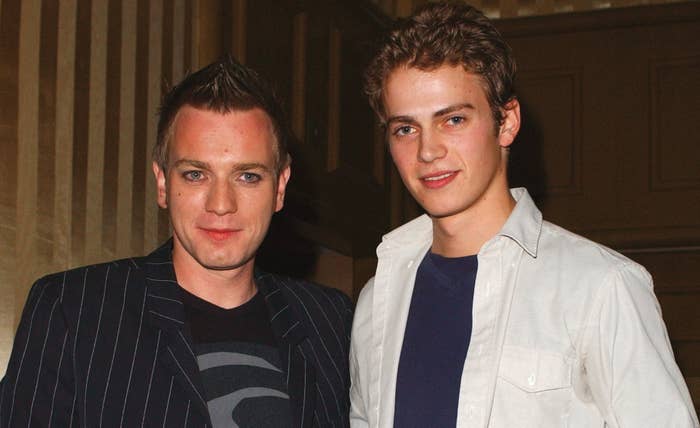 Ewan McGregor is set to make his return to the world of Star Wars with the new Disney+ series Obi-Wan Kenobi, and the actor says it was "spine-tingling" to reunite with his co-star Hayden Christensen. 
It's been 17 years since the two were onscreen together in Revenge of the Sith, the climactic third entry in George Lucas' prequel trilogy. In an extensive new Entertainment Weekly cover story, McGregor reflected on what drew him to the six-episode series debuting on May 25. 
"We find Obi-Wan at the beginning of our story rather broken, and faithless," said McGregor, 50, who stressed how much the conclusion of Sith had an impact on the character. That film ended with Christensen's Anakin Skywalker fully taken by the dark side, becoming Darth Vader. The new Obi-Wan series takes place after the conclusion of Episode III and before the start of 1977's Episode IV: A New Hope.
"It's odd to come back to something after such a long period of time," McGregor continued. "To see Hayden back in the role of Anakin, it was sort of spine-tingling. It was amazing, it was just amazing to see Hayden full-stop. I'm so close with him, we've stayed in touch over the years, but we haven't seen each other for a long time." The two reconnected with a walk in a park during the pandemic after Christensen, now age 40, signed on.
"I love him so much, we have a very special bond of making two of those three films together," Ewan said. "It was so important for both of us, for our careers and who we are. … It was so lovely to see him again, and to be on set with him again was just… Odd. It was like time hadn't happened, or something."
Christensen explained to EW—unfortunately not on video (yet?)—why he didn't reprise his role for the brief sequences starring Darth Vader in 2016's Rogue One. "I wasn't a part of any of those conversations about Rogue One," he said. "But I loved what they did with it. The character predates me, and it's always been a collective effort in a lot of ways. I thought it was brilliant."
Per EW, "no one will say" if James Earl Jones, who is now 91 and turned in a memorable performance in last year's Coming 2 America, is voicing Vader again. The mag did debut a photo of the Sith Lord's appearance in Obi-Wan, below.
He also reflected on some of the critiques he faced after he made his debut in Episode II: Attack of the Clones, with none of the prequels receiving an especially warm welcome at the time. "When the films came out and the critics were very critical, of course that was a difficult thing—because you care so much about this thing that you've invested so much of yourself into. So, for sure, that's challenging," Christensen said. 
He wound up taking a break from Hollywood after the experience, moving to the Canadian countryside to capture the "peace and escape" he'd felt at Lucas' Skywalker Ranch in California.
"I really took a liking to that whole environment and lifestyle and got a bunch of animals and was looking after sheep and pigs and chickens for a little while," the Jumper star said. "I go through periods of being very focused on my work as an actor, and then just wanting to do other things that aren't necessarily for public consumption."
Coming back to the world of Star Wars was "very surreal," he said. Deborah Chow, who directed the new show, had to come to Christensen's farm to pitch the project to him, and thankfully he was interested. "Deborah came up and we spent the day chatting," Christensen said. "She told me a little bit about the project and her vision for it, and I just thought that it sounded wonderful. I was very excited to come back."
Watch McGregor's interview above, and check out the full profile here.