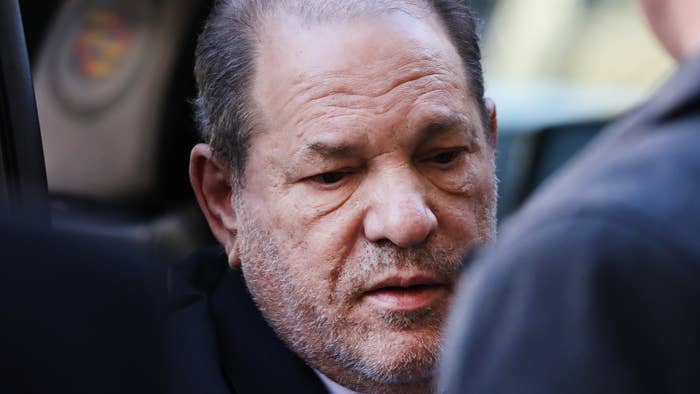 UPDATED 2/24, 7:40 p.m. ET: After he was found guilty, Harvey Weinstein, who was supposed to head to jail on Rikers Island, was reportedly transferred to Manhattan's Bellevue Hospital for chest pains. 
See original story below.
Former movie producer Harvey Weinstein has been found guilty of a felony sex crime and rape at his trial in New York. He could be sent to prison for decades, although he has yet to be sentenced.
The Associated Press reports that the jury, which consisted of seven men and five women, took five days to reach a verdict. The charges Weinstein was convicted on relate to a 2006 sexual assault and a 2013 rape. He was found not guilty on a charge of predatory sexual assault, which could have landed him a life sentence. 
Weinstein was handed his verdict after accusers gave testimonies over the past few weeks, with a number of alleged victims detailing stories of rape, forced oral sexual, and groping. He did not testify during the trial, but his lawyers claimed any sexual contact with his accusers was consensual. While he was found guilty in New York, he's still facing similiar charges in Los Angeles.
"This trial—and the jury's decision today—marks a new era of justice, not just for the Silence Breakers, who spoke out at great personal risk, but for all survivors of harassment, abuse, and assault at work," said Time's Up Foundation president and CEO Tina Tchen. "The jury's verdict sends a powerful message to the world of just how much progress has been made since the Weinstein Silence Breakers ignited an unstoppable movement... Abusers everywhere and the powerful forces that protect them should be on notice: There's no going back." 
Weinstein's predatory behavior was exposed in a series of landmark reports in 2017, in which he was accused of sexual misconduct by dozens of women. He was arrested on May 25, 2018 and was charged with rape, criminal sex acts, sexual abuse, and sexual misconduct. He was later released on $1 million bail and was required to wear an ankle monitor until his trial date. He pleaded not guilty.