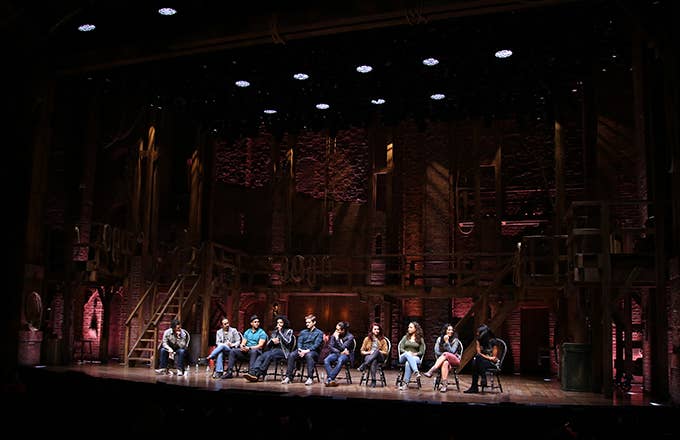 During a Friday (Feb. 15) night performance of Hamilton at the San Francisco Orpheum Theatre, a member of the audience had a medical emergency that made an automated external defibrillator go off and trigger an alarm. The audience panicked as some confused it for an active shooter warning, according to the San Francisco Fire Department.
The ruckus resulted in multiple attendees hurt. The injuries included a broken leg and two other "moderate injuries." Another boy suffered a seizure after a "gunshot sound" was heard. As NBC reports, people in the audience reportedly heard what they believed to be a gunshot go off, with someone yelling about someone in the theater with a gun. People immediately panicked, running out of the theater while the cast ran backstage.
San Francisco Police Captain Renee Pagano clarified there was no gun, however. The theater was repopulated with the cast shortly after the incident, while the ailing attendee and those injured in the confusion were taken to nearby hospitals. The boy suffering from a seizure was separate to the member who suffered a heart attack that triggered an alarm.
The theater also addressed the situation on its Twitter account.
Patrons of the theaters weren't impressed by this statement. Some claimed there was no announcement before the alarm went off. "Extremely disappointed in how the event was handled," wrote one Twitter user.
Videos of the police response to the incident were posted to Instagram and Twitter following the chaos. The victim of the heart attack is reportedly in critical condition. The others taken to the nearby hospitals are expected to make full recoveries from their injuries.