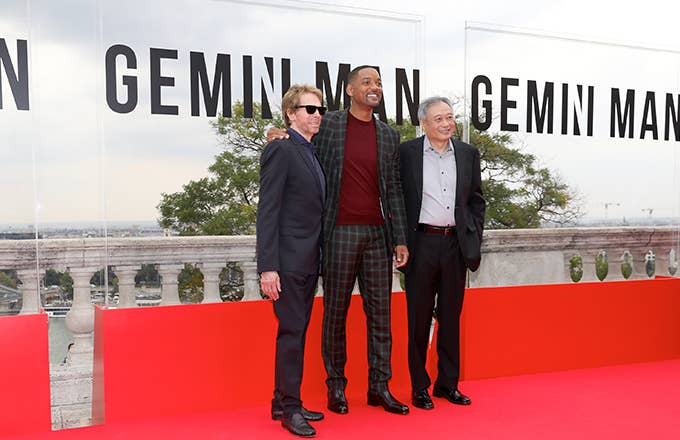 Ang Lee's Gemini Man, which stars Will Smith facing off against a younger version of himself, continues to disappoint at the box office. The action thriller stumbled out of the gate, and it didn't fare much better during its second weekend, either.
As The Hollywood Reporter notes, the movie had a production budget of $140 million and roughly $100 million in marketing. In its second weekend at the domestic box office, it ultimately took a 59 percent performance hit. So far, Gemini Man has only grossed $36.5 million domestically and $82 million overseas. That brings its current total gross to $118.7 million, which could indicate that the film could lose at least $75 million for the production companies involved.
Gemini Man was financed by four different companies, meaning the loss will be split between Skydance Media, Paramount Pictures, Fosun, and Alibaba. After a disappointing first week at the domestic box office, the companies had reportedly hoped to see the movie pick up more steam in China. 
Prior to hitting theaters, Gemini Man garnered a lot of attention for its unorthodox frame rate. While most movies released in theaters are displayed at the standard 24fps, Gemini Man was filmed at 120fps. The ultra-high frame rate proved an issue, however, as Business Insider reported that not a single theater in the U.S. was able to play the film as Lee had intended. He ideally wanted it shown on a 4K projector at 120fps in 3D, but that was the least of its problems.
Gemini Man has garnered a lukewarm to outright negative critical response, with a 25 percent score on Rotten Tomatoes and a 38 percent average on Metacritic. It was also facing off against the over-performing Joker, which brought in more during its third weekend ($29.2 million) than Gemini did during its debut ($20 million). Joker has since gone on to be one of the most profitable comic book movies—and R-rated movies—ever, grossing over $737 million on a relatively small production budget of $55 million. It has even eclipsed the performance of the high-budget Justice League, which brought in a disappointing $657 million.
Elsewhere at the box office, Disney and Sony offered up more competition with the release of Maleficent: Mistress of Evil and Zombieland: Double Tap. Both made strong debuts with $36 million and $26.7 million, respectively. The top 10 was rounded out by the limited release of two critical darlings; Bong Jong-ho's Parasite and the Robert Pattinson and Willem Dafoe-starring The Lighthouse. The former brought in just over $1.2 million from just 33 theaters, while the latter took in $419k from eight theaters.