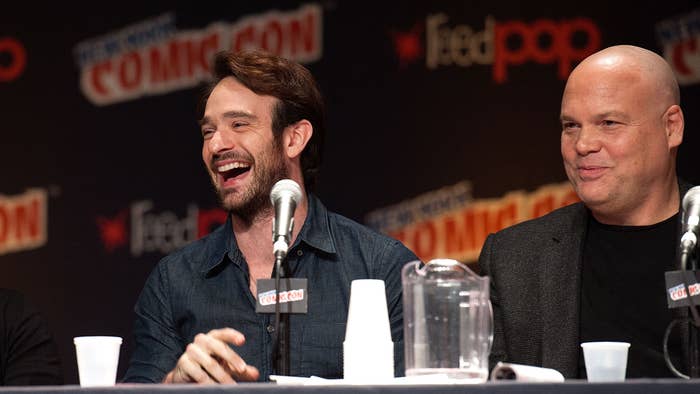 Daredevil actors Charlie Cox and Vincent D'Onofrio are set to reunite for Echo, a new Marvel Cinematic Universe TV show set to come to Disney+.
The Hollywood Reporter writes that Cox and D'Onofrio have joined the series, set to follow Hawkeye breakout star Alaqua Cox as Maya Lopez, a.k.a. Echo. The two actors previously portrayed Matt Murdock/Daredevil and Wilson Fisk/the Kingpin on Netflix's Daredevil, which was canceled after three seasons in 2018 alongside the rest of the streamer's Marvel shows such as Jessica Jones and The Punisher.
Cox recently had a cameo in Spider-Man: No Way Home as Murdock, which hinted at Marvel planning to reintroduce the character later down the line. D'Onofrio, meanwhile, showed up unannounced as the Kingpin on Hawkeye, and it's expected they'll both build on those appearances for Echo. Sources close to the production of the Disney+ series said it will include a plotline in which Daredevil is hoping to find a former ally. Who that friend could be, however, remains a mystery. It's possible that Krysten Ritter, who played Jessica Jones in the eponymous series, could return as said ally, at least according to podcast The Weekly Planet. 
Following the abrupt cancellation of Netflix's Marvel slate, the future of Daredevil seemed bleak for fans. That's obviously a different story these days with Echo in the works, but fans will still have to wait until next year to see the results. Disney has thankfully since brought its Netflix-produced projects to Disney+, so there's ample opportunity to catch up.