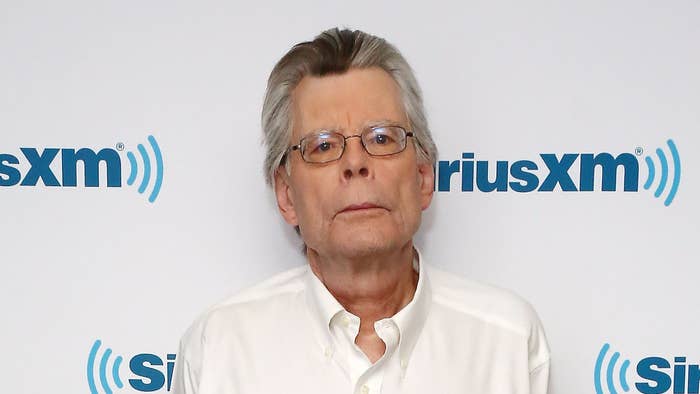 In a scene that could be taken out of one of his very own novels, a deer impaled itself on the spiked fence outside of Stephen King's gothic home in Bangor, Maine.
Per the Bangor Daily News and TMZ, the exterior of the legendary author's mansion (pictured below in 1990) was met with an uninvited visitor on Thursday evening when a wild deer somehow got tangled in the spiked fence that surrounds the property. One of the spikes went through the animal's midsection, leaving it unable to move with two of its legs inside the property and the other two outside.
According to the Bangor Police Department, a woman driving past the home noticed the trapped deer and alerted authorities. It's unclear if King was home at the time of the incident. Police said the one-year-old buck attempted to jump over the fence, but it was too high. The deer later attempted to move through the middle portion of the fence, which resulted in the aforementioned impalement. Per state law, police officers are authorized to euthanize any wild animal if it's in distress. The deer was shot by one of the responding officers, who removed its body from the scene.
It is believed the home is no longer King's main residence, but a holiday home for him and his wife, author Tabitha King. So far, the 75-year-old has yet to comment on the incident, but it certainly sounds like something he might depict in one of his many acclaimed works. Considering he's remained relatively active on Twitter, it might not be long until he has something to say.
King made headlines earlier this year after Twitter falsely indicated the writer was among a number of celebrities who paid to subscribe to Twitter Blue. "My Twitter account says I've subscribed to Twitter Blue. I haven't," he clarified to his followers. "My Twitter account says I've given a phone number. I haven't."
Elon Musk then claimed he was "personally paying" for King's subscription, along with a couple other celebrities including LeBron James.
As always in Hollywood, there are a number of Stephen King-related projects in development. Most notable is HBO's It prequel series Welcome to Derry, which will serve as an origin story to Andy and Barbara Muschietti's two films. While the Muschiettis are involved with the project, Pennywise actor Bill Skarsgård is currently not slated to return.