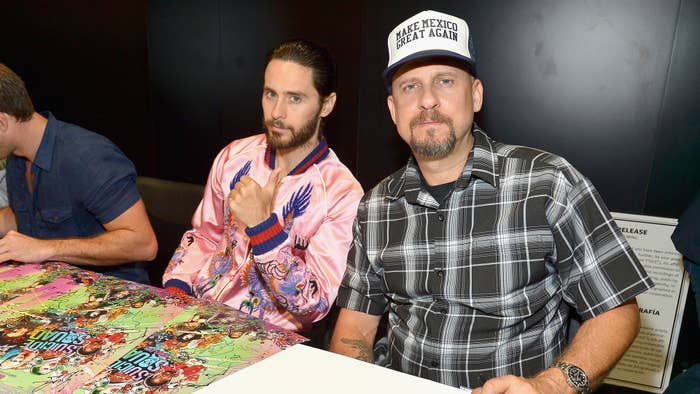 The director of 2016's Suicide Squad, David Ayer, has revived calls for a cut of the film without studio meddling after he shared a photo of Jared Leto as the Joker.
Ayer has gone on the record regarding his feelings on the 2016 film, which was effectively replaced with a follow-up titled The Suicide Squad this year, and has suggested that an alternate director-approved cut of the film exists. "The studio cut is not my movie," he explained in July. He told fans that his version of the film, which has not been publicly released, is "intricate and emotional." 
Fans have rallied behind Ayer in the same way hardcore DC film fans did with Zack Snyder's long-fabled cut of The Justice League, which finally saw its four-hour cut debut on HBO Max earlier this year. On Wednesday, Ayer reignited fans' passion for a re-release of Suicide Squad with an image of Leto as his divisive take on the Joker.
"Jared killed it," he wrote. "But no one knows."
Calls to get the Ayer-approved cut of Suicide Squad released have persisted ever since he first opened up about his experiences working on the film, which performed well at the box office but recieved middling reviews from critics and audiences alike. In March this year, he claimed the film was "ripped to pieces" by the studio executives behind the production.
The arrival of yet more previously unseen images from the films has once again reignited hope that Ayer's version may one day see the light of day. 
With the release of the Snyder cut of Justice League, it's not out of the realm of possibility.