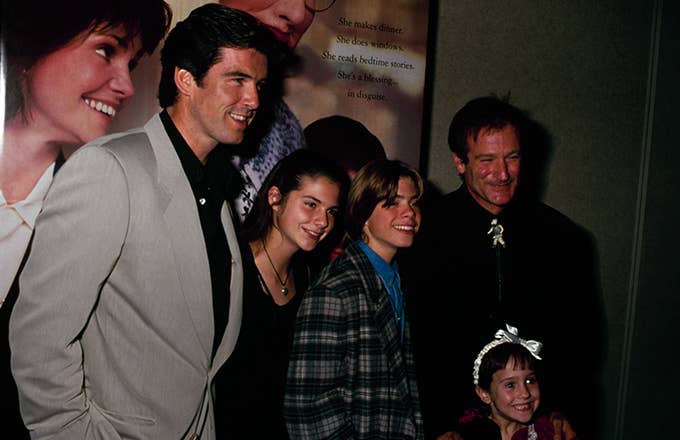 It's been 25 years since Robin Williams gave one of his most fondly remembered performances in Mrs. Doubtfire, the classic 1993 comedy-drama film which also starred Sally Field, Pierce Brosnan, Mara Wilson, Lisa Jakub, and Matthew Lawrence, among others. To celebrate the anniversary of the film, People brought together Brosnan and three of the film's child stars to talk about how Williams impacted them.
"One of the most powerful things for me about working with him is that he was very open and honest with me talking about his issues with addiction and depression," said Lisa Jakub, who played older sister Lydia in the film. "That was so powerful to me at 14. I have struggles with anxiety my whole life." Matthew Lawrence, who played Williams' son in the film, added, "Robin was like a guiding source. He would just all of a sudden, out of the blue look over and be like, 'Don't do drugs. They really messed up my brain, I'm serious. Do not do them.' That stuck with me."
During the chat they brought up Williams' fantastic improvisational skill, with Brosnan saying that he had some trouble keeping it together during a particular scene that took place. "Coming here today, I went on my phone to Google the movie and the restaurant scene came up," Brosnan explained. "Robin is there as Mrs. Doubtfire and he just unleashed the most bluest, the craziest innuendos about Sally's character."
In fact, Brosnan said that he wasn't even acting in that scene, with Mara Wilson saying he looked "wonderfully uncomfortable." "It kept me employed, I managed to pay the mortgage and look after my children," Brosnan joked when talking about the legacy of the film. "But it's really ingrained in my heart because the nature of the story, which is very empowering for young men and women or families that are divorced. I think it's a very healing film in many ways."
Watch the full fascinating interview over at People by heading here.