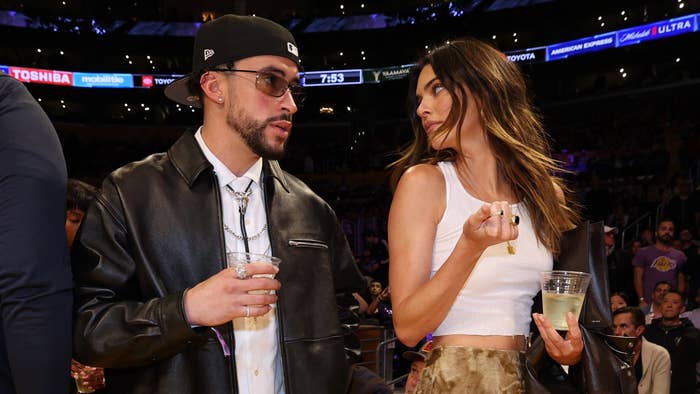 TMZ reports that all the A-list guests were all seen mingling at the show, and they were seen going between assigned seating, the floor section, and a VIP area. As seen above, Jenner and Bunny appeared to confirm they're currently in a relationship by getting cozy while Drizzy performed "God's Plan." The pair have been spotted getting close in public for quite some time now, and they've reportedly been romantically linked since at least February of this year.
Kim K, meanwhile, appeared to be enthusiastic about Drake sampling her on his track "Search & Rescue." In a video from the concert, as seen below, Kim enthusiastically recited, "I didn't come this far, just to come this far and not be happy." The song caused something of a furor earlier this year when it dropped because the sample refers to her decision to split from ex-husband Kanye West, who notably beefed with Drake.
At one point, Drake went up to Bad Bunny to get the crowd to make some noise for the Puerto Rican superstar. "I'ma let y'all cheer, go ahead y'all," Drake told the crowd before teasing a future collaboration. "I wanna tell y'all something because y'all are L.A. and we love you. It's been like six years since me and Benito did a song, so we got a song coming for y'all."
The only time Drake and Bad Bunny have teamed up is for their 2018 track "MÍA," which they first teased in 2017. It's unclear whether the new collaboration will arrive on Bunny's next project or Drake's highly-anticipated For All the Dogs, which he has been teasing throughout his It's All a Blur Tour with 21 Savage.
During the first of several dates at the Kia Forum in Inglewood, Drizzy told the audience the first show was almost called off due to production issues.
"I don't mean to put the Forum on blast or anything but I'mma tell you the truth," Drake said. "They came to my house this morning after I woke up and they told me that they couldn't build the show for y'all tonight. I'm not really that good at taking no for an answer. I told them, I said, when I left Toronto I had a picture on my screensaver. It was of a house in Los Angeles. I said, the one place that took me in when I left my hometown was Los Angeles, California." He asked the audience to make some noise for everybody that helped put the show together despite the issues.