Ariana Grande may be dating Spongebob Squarepants, but not the one fans think of.
Over the weekend, the wife of Tom Kenny, the man who's been the voice of Spongebob Squarepants since the cartoon debuted in 1999, took to Instagram to state that her husband isn't dating the two-time Grammy Award winner.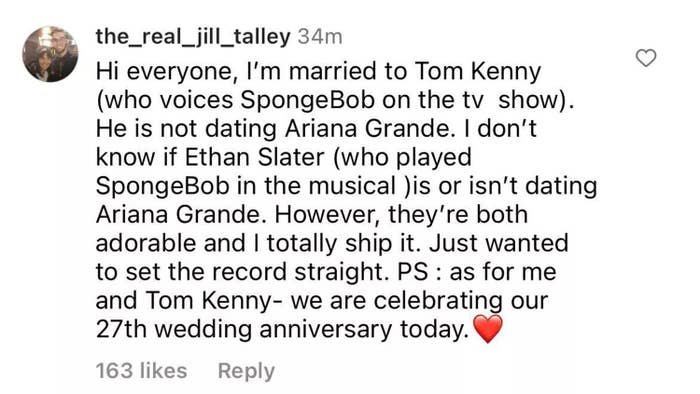 "Hi everyone, I'm married to Tom Kenny (who voices SpongeBob on the TV show)," Jill Talley wrote under the post from The Cut that asked, "Is Ariana Grande dating SpongeBob now?"
She continued, "He is not dating Ariana Grande. I don't know if Ethan Slater (who played SpongeBob in the musical) is or isn't dating Ariana Grande. However, they're both adorable and I totally ship it. Just wanted to set the record straight. P.S. as for me and Tom Kenny — we are celebrating our 27th wedding anniversary today."
The confusion stemmed from news that Grande was now dating her Wicked costar Ethan Slater, who also played SpongeBob in the 2017 Broadway musical adaptation. According to TMZ, Grande and Slater got together during the production of the Wicked two-part film adaption.
Grande's alleged new relationship comes after TMZ reported that she and her husband Dalton Gomez were heading for divorce. The two had been married since May 2021 but have been separated since January. A source told People that the two have been "quietly and lovingly working on their friendship" since separating earlier this year. Sources also told Page Six that Grande and Gomez plan to "remain best friends."
As for Slater, he's reportedly separated from his wife, Lilly Jay. The 31-year-old and Jay met in high school and began dating in 2012 and married in November 2018. They had a baby son who was born in August 2022.