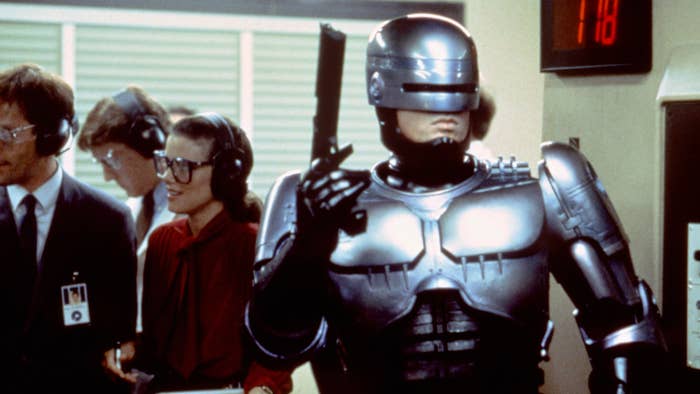 UPDATED 4/25, 12:30 a.m. ET:While The Magnificent Seven might not be as well known today as the likes of RoboCop and Legally Blonde, it's the first piece of IP to publicly move forward since this month's story about Amazon's MGM plans.
True Detective mastermind Nic Pizzolatto will executive produce and write a series based on the property. "Pizzolatto originally set out to create an original Western drama series for Amazon Studios with a significant commitment. … That idea subsequently morphed into a Magnificent Seven reboot as Amazon Studios brass wanted to wrap it around a piece of well-known IP," Deadline writes.
Pizzolatto made his feature writing debut by co-penning 2016's Magnificent Seven movie, which had a superstar bench including Denzel Washington, Ethan Hawke, Chris Pratt, and Vincent D'Onofrio, and was helmed by Antoine Fuqua. Nic followed that script up with a 2018 adaptation of his novel Galveston.
See original story below.
Following Amazon's $8.5 billion acquisition of MGM's catalog last year, the company is developing adaptations of some of its biggest intellectual properties.
Per Deadline, Amazon Studios has been working to develop TV and film projects from the extensive MGM library throughout the past year, and now there's a list of candidates at the top of its list. RoboCop, Stargate, Barbershop, Legally Blonde, Pink Panther, The Thomas Crown Affair, Fame, and The Magnificent Seven all have new iterations in development. It's likely that not all of these will come to fruition, but at least a few will move forward.
Various A-list creatives have reportedly spoken with Amazon Studios about adapting MGM's IP, and the company has also tapped existing collaborators. Some properties are being adapted for TV or film, while others are getting series and features both. Sources have indicated RoboCop, Legally Blonde, and Stargate are exploring that two-pronged approach, while Barbershop and The Magnificent Seven are going the TV series route.
Amazon has taken its time utilizing MGM's vast library of properties following the acquisition last year, and there are still major IPs that aren't in development. There are, however, plans for a universe of Creed and Rocky TV series and films. There's also the potential for something new from the Poltergeist name in the future. Amazon has yet to do anything with the James Bond IP, but it could simply be because the last Daniel Craig-fronted Bond film No Time to Die was released as recently as 2021.