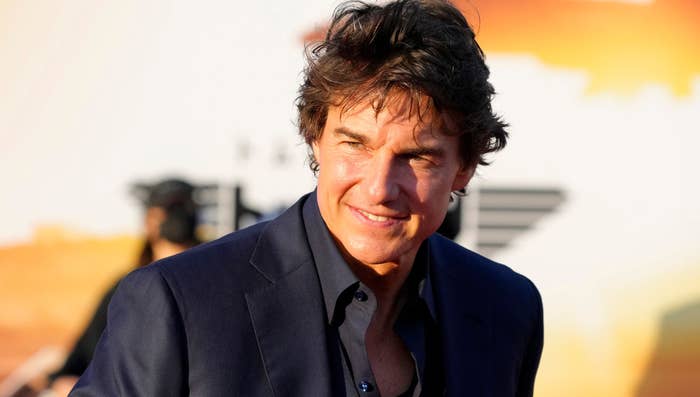 UPDATED 5/30, 7:40 p.m. ET: Top Gun: Maverick has set a new Memorial Day weekend domestic box office record with $156 million, Varietyreports. 
The previous record was held for 15 years by Pirates of the Caribbean: At World's End, which earned $153 million. Maverick was aided by a better-than-expected turnout on Sunday that pushed the sequel's three-day total to $126 million, a slight increase from the original estimate of $124 million. 
See the original story from 5/29/22 below.
Tom Cruise is in the midst of the largest opening weekend of his career. 
Top Gun: Maverick is taking Memorial Day weekend by storm, earning $151 million in four days and $248 million worldwide, per Deadline. The sequel to the 1986 Cruise classic marks the biggest Memorial Day weekend in film since 2007's Pirates of the Caribbean: At World's End, which earned $153 million during the same time frame when it was released. Before Monday wraps, over 11 million viewers would have seen the movie, which shatters the 2 million that saw the original in theaters back in the '80s during its opening weekend. 
Steven Spielberg's 2005 film War of the Worlds, which opened to $64 million, was Cruise's previous largest opening weekend, per USA Today. 
"If you thought movies were dead, go see Top Gun: Maverick and then let me know what you think. This film heralds the return of the summer blockbuster, and is a catalyst that will accelerate demand for moviegoing like an F-18 breaking the sound barrier," Rich Gelfond, CEO of IMAX, said in a statement. "There's no way you sit in a theatre, with a huge screen and chest-pounding speakers, and come away thinking there's any other way you want to experience Top Gun: Maverick, and our hats are off to Tom Cruise, Joe Kosinski, and their fearless creative team for what they've accomplished."
Outside of Top Gun, Doctor Strange 2 is celebrating a pretty impressive fourth weekend in theaters, finishing in second over the four days with 21.1 million earned domestically. 
Still, the theatrics for Top Gun even continued outside of the film. Tom Cruise, as we previously reported, arrived to the film's global premiere in a helicopter that he piloted toward the Civic Center Theater in San Diego. It's hard to not want to see the film after that one, so the numbers surely check out.