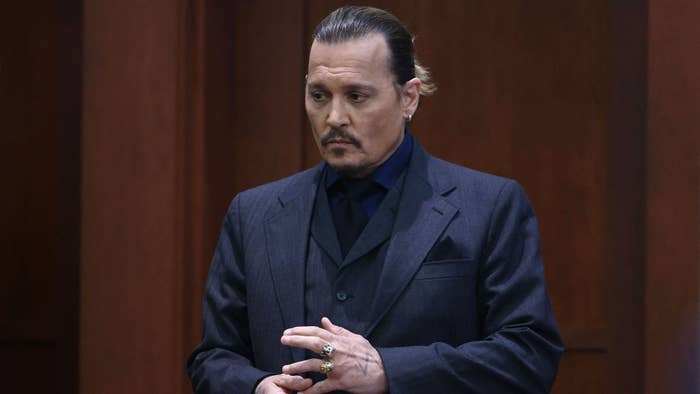 As Johnny Depp's defamation case against ex Amber Heard continues, new details about their relationship are being revealed in court. 
The ongoing case, in which Depp is seeking $50 million in damages after Heard penned a 2018 Washington Post op-ed and claimed she was a victim of domestic abuse from him, has covered a few aspects of their time together. Over the last week, Depp has claimed Heard sliced off his fingertip with a thrown vodka bottle, denied hitting his ex-wife entirely, and was accused of sexually assaulting her, which a rep for Depp has since denied.  
On Thursday, Depp took the stand once more, where he was presented with text messages and asked to confirm if he sent them, per Vice. The texts, some of which were already presented in his 2020 case against the Sun newspaper, were sent to Heard, Paul Bettany, and others. They featured seemingly violent phrases and language, including an exclamation to "drown her before we burn her," and "fuck her burnt corpse afterwards to make sure she is dead."
Depp confirmed the texts came from him during cross examination with Heard's lawyer J. Benjamin Rottenborn. Other messages included him calling Heard a "filthy whore" and saying in 2015 that he'd "slap the ugly c**t." One text from 2014 detailed Depp letting substance abuse issues "get too far."
"We/I tend to do that," Depp wrote. "I don't want to be conditioned to continue that behaviour. Therefore I'll put in heavy work with drink. I'm sorry for being less…I'm a fucking savage. I've got to lose that. … Know that you are right I am well aware that I should have been bigger than the moment, and that it'll never again manifest in negative experiences. It can be done." 
Also, as TMZ reports, Depp discussed a 2014 fight with Heard on a plane regarding a scene she filmed with James Franco for a project, adding that he thought the two were having an affair after he was questioned on the topic. Depp confirmed he felt Heard was being judgmental toward him because she thought he was under the influence at that time, and that he had slept on the bathroom floor of the plane. 
Already in the case, both Depp and Heard listened back to an audio recording of Heard admitting to hitting Depp during an argument. 
Heard filed a counterclaim for $100 million in damages in the case, which the jury will consider. The couple were married in 2015 and divorced a year later.