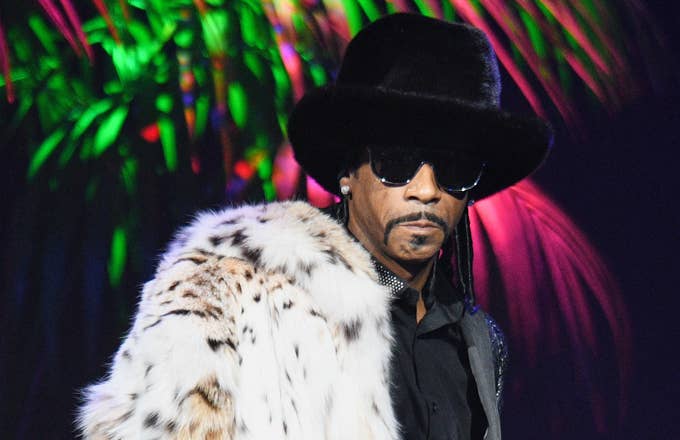 Katt Williams is starting 2018 on the right foot. Fresh off a great stand-up special on Netflix, the comedian is busy working on a pair of movies—Meet The Blacks 2: The House Next Door (with Mike Epps, Lil Duval, Bresha Webb, and Michael Blackson) and 2 Minutes of Fame (with Jay Pharoah and Keke Palmer)—and just had a show-stealing performance on the first episode of Atlanta's second season. Katt plays Earn's crazy uncle who, for some inexplicable reason just so happens to have a pet alligator, and the neighborhood kids call the "Alligator Man." 
While this isn't the first time we've seen Katt show off his acting skills, this performance did display a range that we haven't really seen from him before. It's one of those stand-out performances that makes you hope he ends up getting more roles in the near future. We recently caught up with Katt to talk about how he was able to vibe with an alligator, how serious his acting was in the episode, and his admiration for Donald Glover.
You're the Alligator Man in the first episode of Atlanta Robbin' Season. How did you end up on the show?
I'm a music fan and I'm a comedy fan. [Donald's] name carries that type of weight in both of those circles. So any project that he's a part of, you want to be a part of as well. He had some thoughts on season two, where he wanted to take it, and how he wanted to put things out there. You can put yourself into somebody's hand when you can trust their objective. 
The first two times I auditioned, I wasn't good enough and other people were better. I just kept at it, and then I interned at an alligator farm for three-and-a-half weeks, just so I could get comfortable enough that we didn't use a stuntman. I really adopted the alligator into my home. And became so comfortable with it that it was like working with another co-star.
So you were just like chillin' with the alligator for three weeks?
Yeah.
How was that experience?
It was life-changing.
How so? 
I'm saying it wasn't the first alligator; the first alligator turned out to not work. When they got the next one in, he and I were able to vibe. But a lot of people probably would've quit.
So what was up with the first alligator? Were you just not fucking with his personality?
No, it was like, the stuff that he thought was cool to do wasn't cool to do. He thought it was cool to just take his tail and knock people off they feet. That sounds funny and all, but it's not like a dog, it's an alligator. He enjoyed freaking people out way too much.
How long did it take you to not be nervous? Was it the three weeks? Or you were nervous even when you guys were shooting the scenes?
the first alligator turned out to not work. When they got the next one in, he and I were able to vibe. But a lot of people probably would've quit.
Well, that's the whole thing, with the first alligator, I tried to act like I wasn't nervous. That's probably what got our dynamic off to the wrong foot; we weren't being true to ourself. [With] the second [alligator], I understood that this is the closest to a marriage that I've ever been. Like, you gotta trust me and I gotta trust you. There's the line that neither of us needs to cross. I look out for your best interest, and you look out for mine.
There was a part towards the end of your scene when Earn was in the room trying to talk some sense into your character that stood out. Do you see yourself getting into more serious roles?
Yeah, we have some of that lined up. It's really about the key of the writing. Even if you're doing something that's comedic, that doesn't make the real parts any less real. You know what I mean? The real parts have to be real because it's a story that we're telling. I'm having to channel what somebody else is going through. It's an uncle and a nephew conversation that is as deep as it can possibly be.
Is your character going to return this season?
I don't know what any of the subsequent episode numbers are. I certainly haven't seen the last of it.
How was the experience finally getting to work with Donald, since you're such a big fan?
Oh, it was great. It was magnificent. It was not just him, you know? This is royalty in its completeness. So it's impeccable. It's a joy to witness, ya know? When somebody is not just on the top of their game but their people are on top of their game. It's really wonderful to be able to see the Golden State Warrior mentality play out in another field.