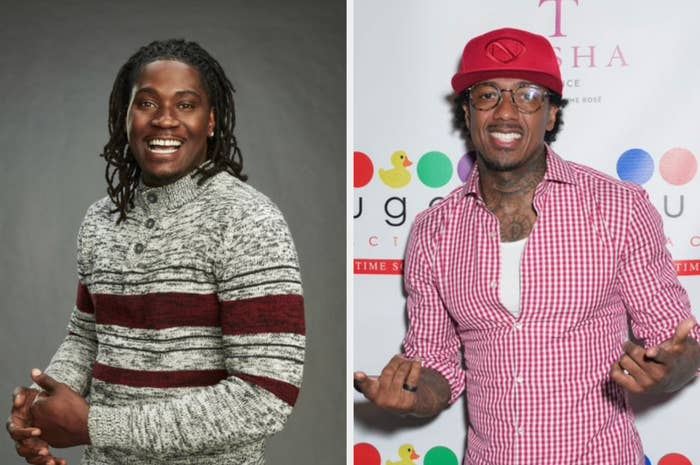 Gabriel Cannon, brother of Nick Cannon, admits he has a case of nephewnesia.
The musician and star of the reality TV competition, Claim to Fame, sat down with Entertainment Weekly for his season 2 exit interview following the finale. In the series, 12 celebrity relatives move in under one roof and try to conceal their identity and who they're related to for a $100,000 prize.
"My strategy going in pretending I was related to an athlete was mainly because of my stature," said Gabriel to the outlet. "Like I said in one of the earlier episodes, I was happy this time that I didn't look like Nick. Trying to get in the club, it's a little hard."
When talking about his infamous sibling, Gabriel gave more insight into what his relationship is like with all of Nick's children.
"I haven't met them, but did y'all see what happened with him? He messed up [naming] all his kids, so I'm not even gonna attempt. I'm just uncle. It's easy," said Gabriel referring to an awkward moment where Nick forgot to name his daughter Onyx Ice during an interview on The Howard Stern Show.
When asked if he keeps a note on his phone or uses another way to remember them all, he simply said "That or Google. They're all on the internet."
Gabriel says that he plans to lean further into the entertainment industry after the reality show and revealed that he learned a lot just from being around his older brother. "I was a guy shooting behind the scenes for him, when he pulled up on set, I gotta get it with a camera, when he leaves, I gotta get him pulling off, and, you know, always had a backpack full of my own scripts and ideas. But it was always about big bro and helping build windows in his castle."
He continued, "Before that I was signed to Def Jam in a group called Rydaznrtist, it's supposed to be like writers and artist, and we went on tour with Mariah [Carey]. We've had an amazing experience. I couldn't pay for the experience. So yeah, definitely picking the music back up. But I think hosting for me ... I wanna host some game shows. ABC, man, I wanna host on Times Square, man. When the ball drops, baby, I'm outside. Let's go get it."
Nick Cannon first became a father with ex-wife Mariah Carey when he welcomed twins Monroe and Moroccan in 2011. The entertainer has a total of 12 children with 6 different women. He welcomed his latest child, Halo Marie, with Alyssa Scott last December. Cannon says "only God" can tell him when he's "done" having kids.