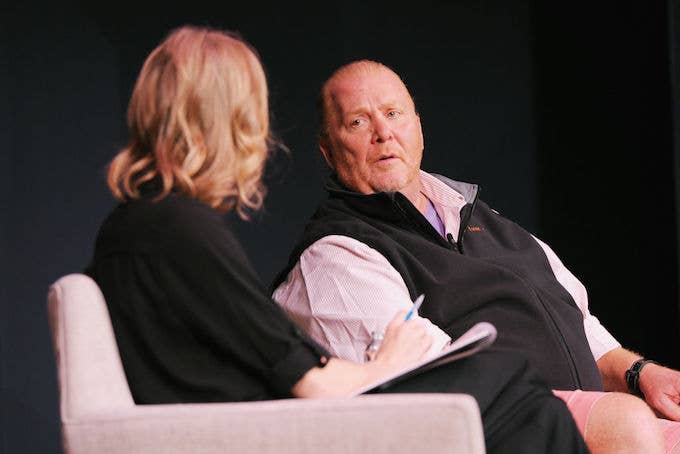 Mario Batali might want to table his impending comeback after the NYPD confirmed it would be investigating two rape cases against the celebrity chef.
According to the Associated Press, NYPD revealed its decision to probe Batali based on accusations that came to light in a 60 Minutes interview on Sunday. An unnamed former employee of his Spotted Pig restaurant accused Batali of drugging and sexually assaulting her in 2005. The woman claims she drank a glass of wine with the chef, and the next thing she remembers is waking up on the floor of his notorious "rape room" with scratches on her legs and semen on her skirt.
In another case, reported by TMZ, a woman from Texas claimed she was raped by Batali in January 2004. That woman reportedly filed a police report in March, and the NYPD is looking into that case as well. In her report, the woman claims she was drinking at Batali's restaurant Babbo when she went upstairs to use the bathroom. The next memory she has is waking up to Batali sexually assaulting her.
Batali has denied he assaulted the unnamed woman at his Spotted Pig restaurant in 2005, but has not responded to the second claim against him.
In the past month, a number of men have been staging their comebacks after falling from grace during the #MeToo movement. According to the New York Times, Batali too was "eyeing his second act."
"Mr. Batali, who has never been known for his patience, is asking that question—actively exploring when or whether he should begin his comeback," the story reads. "Friends and associates say he is floating ideas, pondering timelines and examining whether there is a way for him to step back into his career, at least in some fashion.
It's unclear if these two investigations will halt his controversial return.