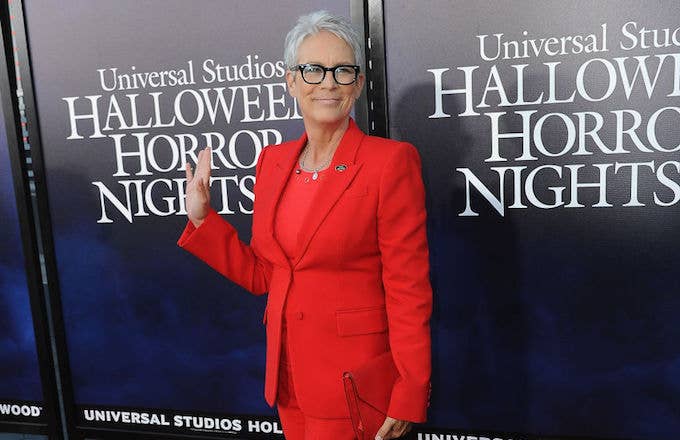 Michael Myers is back, and he's luring in a huge audience forHalloween's opening weekend. According to Variety, the reboot is anticipated to soar past other films in the Halloween franchise two times over, raking in something like $57-65 million.
The slasher serves as a direct sequel to the 1978 movie of the same name by John Carpenter and ignores its nine (!) follow-ups. Universal is hoping Halloween makes at least $50 million, but some analysts predict the film could end the weekend with $70 million domestically, playing in over 3,900 theaters. It's also opening in 21 other markets across the globe and is projected to grab a global take of up to $100 million.
Even if director David Gordon Green's reboot only hits the conservative estimate of $50 million, it'll be the largest opening in the Halloween franchise. Rob Zombie's 2007 reboot currently holds that title at $26 million; his '09 sequel is second with a $16.3 mill opener, and 1998's 20th-anniversary-commemorating Halloween: H20 did $16.2 mill.
Halloween is also expected to join the company of R-rated horror flicks like It, Hannibal, and The Nun, which all made over $50 million opening weekend. This one only had a $10 million budget, making it easily profitable. The movie stars Jamie Lee Curtis as Laurie Strode, the role she originated 40 years ago, and was co-written by Danny McBride. Nick Castle also reprises his original role as the serial killer. In this reboot, Strode and Myers go head-to-head on Halloween night, decades after their fateful encounter when Strode was a babysitter.
Halloween will compete this weekend with A Star Is Born,Venom, Ryan Gosling's First Man, and, also making its premiere, Jonah Hill's directorial debut Mid90s.