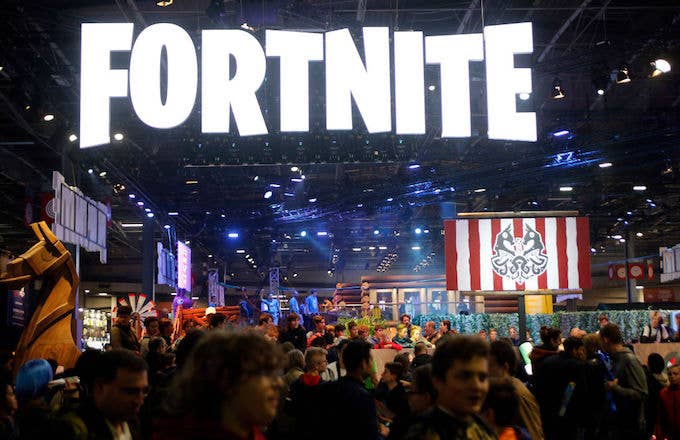 Rapper 2 Milly is suing Epic Games for allegedly appropriating his iconic Milly Rock dance in Fortnite.
Fortnite is free, but within the game players can purchase a variety of things, including highly recognizable dance emotes. A dance identical to the Milly Rock is one of those emotes, dubbed "Swipe It" in the game. Milly, whose real name is Terrence Ferguson, claims the selling of his choreography is exploitation.
2 Milly applied for a copyright of the Milly Rock on Tuesday, four years after releasing the titular track celebrating the dance. Today the video has over 17 million views, and the words "I Milly Rock on any block" are forever ingrained in the collective pop culture lexicon.   
"Upon information and belief, Epic creates emotes by copying and coding dances and movements directly from popular videos, movies,and television shows without consent," his complaint reads. "Epic does so by coding still frames of the source material. For example, upon and information and belief, Epic coded the 'Ride the Pony; emote, frame-by-frame, from the 'Gangnam Style' dance made famous by the Korean entertainer, Psy. The Ride the Pony emote and Psy's dance are identical in every respect."
This isn't the first time a rapper has called out Fortnite for piggybacking off their innovation. BlocBoy JB accused the game of co-opting his "Shoot" dance earlier this year. "Everytime somebody does my dance dey give credit to Fortnite," he tweeted in September. "But dey ain't create nothing but da game basically so dey taking money and credit for my shit dats crazy."
Chance the Rapper tweeted about 2 Milly's Fortnite dance back in July, arguing the game should pay rappers like Ferguson as well as play their songs within the game.
"Epic has consistently sought to exploit African-American talent in particular in Fortnite by copying their dances and movements," writes Carolynn Beck, the attorney for 2 Milly. "Epic has copied the dances and movements of numerous African American performers, including, for example, the dance from the 2004 Snoop Dogg music video, 'Drop It Like It's Hot' (named the 'Tidy' emote), Alfonso Ribeiro's performance of his famous 'Carlton' dance on The Fresh Prince of Bel-Air television show (named the 'Fresh' emote), the dance performed by Will Smith on the same television show (named the 'Rambuncti5ous' emote), the dance in Marlon Webb's popular 'Band of the Bold' video (named the 'Best Mates' emote), Donald Faison's signature dance seen on the NBC television show Scrubs (named the 'Dance Moves' emote), and, most pertinent here, Terrence Ferguson's Milly Rock dance."
The rapper is seeking monetary damages and an injunction. You can read his full complaint here.
Complex has reached out to Epic Games for comment.