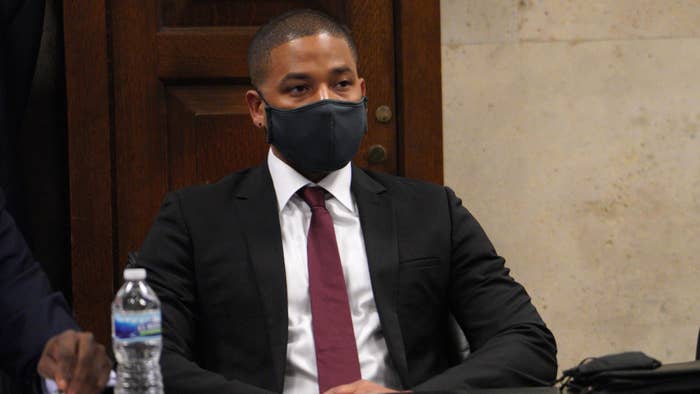 Jussie Smollett's legal team filed an emergency motion on Monday requesting that the former Empire actor be released from Chicago's Cook County Jail, according to TMZ.
Smollett was sentenced to serve 5 months behind bars by Judge James Linn last week after being found guilty on five felony counts he was charged with in connection to staging a hate crime in 2019. Shortly after Smollett was sentenced, his family reported that they had received alarming messages and phone calls threatening harm upon the actor.
"I hope what they do to that guy in jail — here's what they're going to do, right. They're going to take a broom handle, and take that little [expletive], shove it in there, and he's gonna go, '[shrieking sound],'" the person in the call says, as transcribed by Rolling Stone.
The threat, as RS noted, seemingly references the 1997 assault on Abner Louima in Brooklyn, NYC that was committed by 70th precinct officer Justin Volpe, who is currently serving 30 years in prison for the brutal crime.
These threats, along with Smollett's lawyers saying his protective custody could potentially cause harm to his mental health and is basically "solitary confinement," is included in the emergency request as reasons to have him released from prison.
The actor's legal team also argued that Smollett has a higher chance of contracting COVID-19 because of his compromised immune system and should be let out due to high case rates in jails. Additionally, the actor's legal team is appealing Smollett's conviction.
"For good cause shown, judicial economy and efficient administration of justice, it is in the best interest of the parties for this reviewing court to stay the enforcement of the incarceration of Mr. Smollett, to waive the appeal bond, or in the alternative enter a time for Mr. Smollett to pay a just and reasonable bond," Smollett's attorney Nenye Uche said in the emergency motion, per WTTW.
On Sunday, Smollett's Empire co-star Taraji P. Henson took to social media to call for the release of the 39-year-old actor, writing, "I am not here to debate you on his innocence but we can agree that the punishment does not fit the crime."
Henson continued, "No one was hurt or killed during Jussie's ordeal. He has already lost everything, EVERYTHING! To me as an artist not able to create that in itself is punishment enough. He can't get a job. No one in Hollywood will hire him and again as an artist who loves to create, that is prison. My prayer is that he is freed and put on house arrest and probation because in this case that would seem fair."