50 Cent has found a new target. 
After trading shots with Young Buck, Teairra Mari, and Ja Rule in recent weeks, the G-Unit boss began calling out Power executive producer Randall Emmett. The online drama started Friday, when Fif posted a video of Emmett's fiancée, Lala Kent. The clip was taken from Vanderpump Rules scene in which Kent claims Emmett had given her a Range Rover shortly after they first slept together.
"10 seconds left in the 4 quarter hoe's are Winning," 50 captioned the post. "Do you want A range rover [...] Then just run out 🏃‍♀️💨and suck a d*ck. LOL smh."  
Kent clapped back in the comments: "She swears she's a thug from south side Jamaica queens & she's up in here watching Bravo. Someone has forgotten where they come from. Coming for me on the gram!? I smell fish coming from fifty's direction. Vanderpump Rules airs Monday's at 9/8C, only by @bravotv. I got the strap."
It appears Emmett reached out to 50 in an attempt to diffuse the situation. But, to no one's surprise, Fif refused to let it go and began accusing Emmett of owing him $1 million. 
50, who executive produced and starred in Power, posted screenshots of recent text messages he received from Emmett. As you can see below, Emmett repeatedly apologized to Fif and asked him to stop texting.
"I'm heading to the emergency room. I'm not doing well," Emmett apparently wrote. "Please don't text anymore. I'm sorry for everything. This is too much for me."
50 wasn't sympathetic.
"You fucking loser, did you tell [Kent] you owed me a mllion dollar [sic] over 6 years," he responded. "Keep playing with me and get ya fucking head cracked in front of everybody."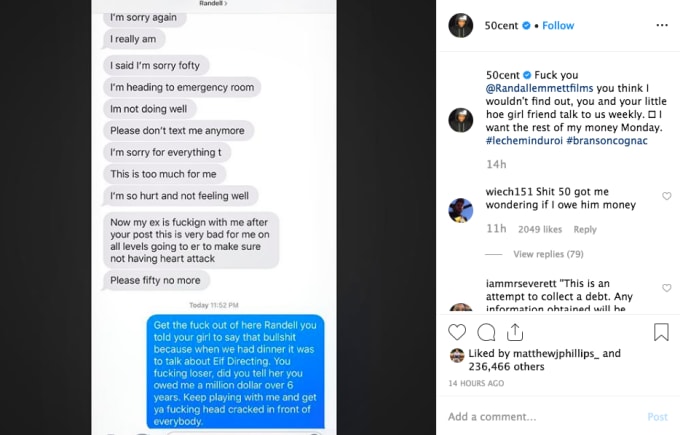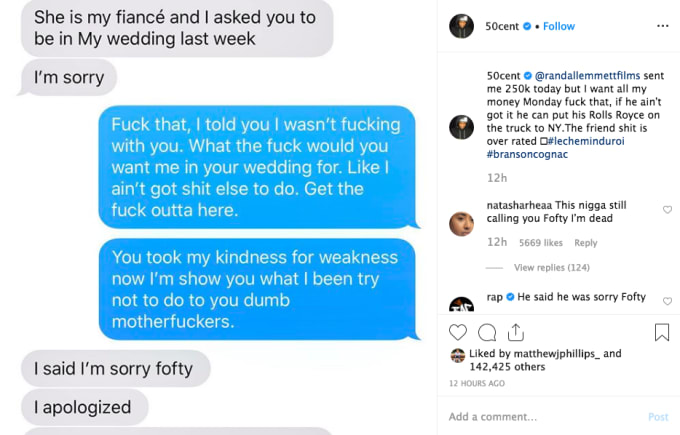 50 claimed Emmett had sent him $250,000 on Friday, and said he was giving the producer till Monday to pay the remaining $750,000.