Idris Elba is non-stop. While most people are hitting the snooze button repeatedly on Mondays, Elba's jetting back bleary-eyed from his Ibiza DJing residency and heading straight into a working week that has included acting in Luther —which returns to TV later this year—as well as in various roles on both small and big screens.
But that's just the start. Alongside this, Elba finds the time for kickboxing, racing cars, running his own record label—7Wallace Music—and even jumping behind the camera to direct his new film, YARDIE: a slickly executed action film which explores sound system culture via Kingston and London. Yet, for someone whose life is so frenetic, everything he does is executed with assured calmness and polished conviction.
YARDIE is yet another example of Elba being one of those irritating people who have the ability to put their mind to anything and completely boss it, and serves as another illustration of his wide array of talents. Despite obviously being knackered by his rigorous regime, Idris is anything but it in person, where he gives off an engaging and effervescent vibe that seems unbefitting for someone presumably running on such little sleep. 
So just how does he do it all? Complex chopped it up with Idris Elba after a long day of promo for his directorial debut on behalf of Purdey's—who have kept him on top form throughout his increasingly hectic schedule—to find out more about how he stays on point with all his various ventures. Here he opens up about everything from his previous DJ platform—Radar Radio, and their toxic situation earlier this year—through to his delight in good friend (and fellow polymath) Virgil Abloh's Louis Vuitton appointment.
COMPLEX: We're here with Purdey's, who you're Brand Ambassador for. How did this role come together?
Idris: I've been drinking Purdey's for a long time now, and there was a conversation between me and the Purdey's team where they were like, "Look, we're not going for a traditional ambassador—grip and grin and all of that—but we want to align ourselves with you and the values of what the drink are." 
We've been building this energy around the drink, no pun intended, about why it relates to me and that's because I'm a very active person that does a lot of things. And how I do it is aligning myself with the right energy around you, and that's where Purdey's comes in. We're now two years in as a partnership, and people still have an intrigue about the drink, so we're pushing it to let people understand that it's a great multivitamin energy drink that gives you balance for work, sport or anything else. 
And you've just re-launched your music label, 7Wallace Music. What plans do you have in store for that this year?
7Wallace has been about for a few years, and we've put out a few releases on it—especially in the house bracket—recently. This announcement was more to let people know that we're a hub of where my music lives. I've produced two albums associated with film that I've worked on. One was for Luther: Murder Loves John and another for Mandela: Long Walk To Freedom and, essentially, I'm going to take that unique strand to future albums. It's also a hub for my DJ work. There's no formula over to who or what I sign to the label—it's all just gonna be good music.
Did you have a musical family growing up?
My dad was a real big music collector and record head, and my uncle was a DJ. My cousin was a DJ on pirate radio... It's something I've been doing as long as I've been an actor. I knew I wanted to be an actor at 14, and I was DJing at 13. 
What have you got on rotation at the minute?
This summer's release roll-out has been mad. I got into Daytona, The Carters, KIDS SEE GHOSTS was amazing…
Yeah, the G.O.O.D Music release schedule has been interesting. What do you think of the seven-track track album format?
It's a bit of a shift from my generation, where we were used to 10 or 11 songs. That would typically be based on a five-a-side label. So seven feels better than, say, 29…
—like Drake's?
[Laughs] Yeah, but I think that was obviously an A-side and a B-Side. But I think, for me, if you can whittle it down and have a strong, 40-minute album listening experience, and you can say it in that time, then you've got it. It's better that way.
You had a sporadic show on Radar Radio and that station has obviously gone through some changes of late. Do you think another platform like that needs to come in its place for the culture?
It's really unfortunate what's happened to the women that went there. I would have loved to have seen them rise and create a completely new radio station themselves—a completely female-only station—and proper go middle-finger-to-the-air with it. The radio formula has changed a lot now, and streaming has taken over dramatically. But a bit of personality behind the music is important, someone saying: "Yo, man! This is wicked! Have a listen." Having a little bit of chat around it will always be a big part of radio. 
That's one of the better aspects they were bringing to the table.
Yeah, definitely. I always used to get invited down to Radar, and it's so horrible what's happened and the way it was handled. But it would have really been sick to see a group of female DJs just having their own thing.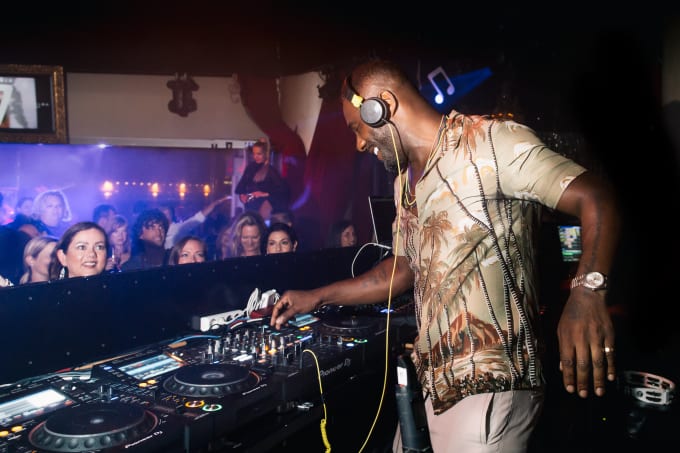 And you now have your own residency in Ibiza this summer. How's that going?
It's been a real interesting one so far. Residencies are new to me in the long-term, like that, but I'm fascinated in doing it; learning about the island and the people that come to hear me spin is great. I'm having a great time, man. I DJ a lot at the moment, and it's a privilege to be able to do that. I'm hearing a lot of great new music and to be able to spin it is a proper privilege. 
How are you finding juggling that with everything else you've got going on?
Do you know what? I could complain about it, but I'm really living the dream. Ultimately, it is hard work, and you've got to be disciplined 'cos on a Monday you've got to get up, and go back to the UK and start the working week again. But Purdey's definitely helps! [Laughs]
Virgil Abloh is another polymath of sorts, and you're a big fan of Off-White. Do you guys speak often?
Another polymath? So I'm one, too? Thank you [laughs]. But yeah, Virgil's a good mate of mine, and we've been talking about DJing together—we wanted to do Miami together but never got the chance 'cos I couldn't go with all the stuff I had on…
What do you make of his move to Louis Vuitton?
Polymath is a great way to describe him, actually. He's such a talent—a very expressive guy—so the move to LV was a great move for him, and a massive moment for both him and LV. His recent show was absolutely incredible too! 
Onto your new film, YARDIE, I noticed that the film was shot around Cambridge Heath and bits of Hackney. Did you want to shoot it somewhere that you knew growing up?
Definitely—I wanted to see the area I grew up in on film. The great bit about that area is that it's all still quite untouched. They still look exactly how they did in the '70s and '80s, so it suited the feel of the film perfectly. 
It's your directorial debut. Was getting behind the camera as opposed to being in front of it something you always wanted to do? 
Yeah, I think it's the pinnacle for any actor. I definitely wanted to be in the big chair growing up, and be a part of the whole process of making the film. As an actor, you come in and you play a tiny part—an important part—but I wanted to be a co-author as a director and be properly immersed in it. It was challenging—long hours!—so it's good job I had a can of Purdey's by my side! [Laughs] But yeah, you're thinking on so many different levels in the role. I actually operated the B Camera on that film, which was a good experience for me too.
The film is focused on sound-boy and sound clash culture. Were you going to events like that back in the day?
Back in the day, there were reggae sounds and there were UK soul sounds. And those soul sounds were inspired by the likes of Funkadelic, Sly & The Family Stone—all sounds that blended rare groove, electro, soul, but the vibe was the same. There was always an MC chatting away. That was by entry point into sound-boy, and then I went into pirate radio. 
So it was an organic progression into those worlds, that's where it all began.
Yeah, I wanted to relate my character "D" in the film, as something rooted to me. That soundly experience was an experience that people of a certain generation went through. They started off with sound systems, and then ended up on pirate. Some went to jail, some did other things. 
Now, it didn't end up coming home, but what are your thoughts of the World Cup and the England team?
Man, the memes were so great! That one of the Ape from Planet of the Apes whispering "it's coming home" got me [laughs]. But listen, man, I'm really proud of the England boys on multiple levels. Seeing the nation come together and watch it was amazing. Those moments will be remembered forever. 
You're also a massive Gooner. What do you think of Emery and what are your hopes for next season?
I dunno, man. I want to be positive. We're wide-eyed, we're all looking to see wagwarn, but it's definitely going to be an interesting season, as there's been a certain faction of fans who have been looking for a new energy and new approach. A little bit of hutzpah! But yeah, I'm gonna try and remain silently optimistic. 
What else do you have in store this year? Surely you can't fit anything else in?
I'm shooting a TV show, which is a comedy, called Turn Up Charlie, and it's about a DJ that's trying to get his career back together. I like doing a bit of comedy—I haven't done it before in a big way so looking forward to putting that out! Keep 'em peeled for that one.