Atlanta star Lakeith Stanfield hit us with a tweet-and-delete Tuesday night, likening Migos to "garbage."
Stanfield, whose Twitter is definitely a must-follow and routinely offers poetic brevity, also tweeted and deleted other (unrelated) tweets. Of course, Stanfield may very well have been joking. Or not. Who knows? At any rate, here's the Migos=garbage hypothesis: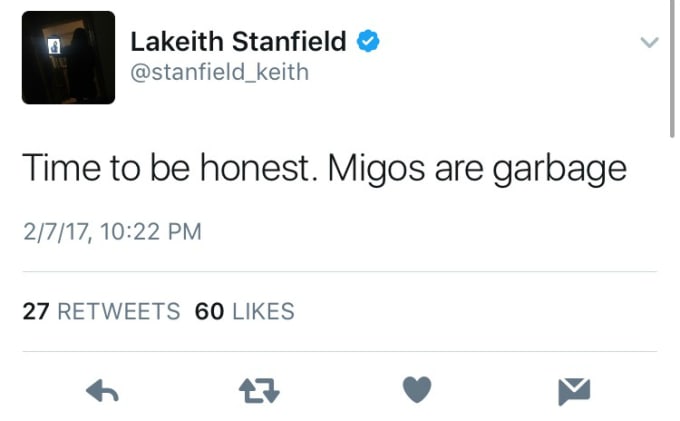 Just hours after Stanfield's tweet-and-delete, Atlanta guest stars Migos made headlines with their baffling comments in response to Makonnen coming out as gay on Twitter last month. While fans and artists alike offered touching words of support for the Drink More Water artist, Migos chose instead to tell Rolling Stone's Jonah Weiner that the "world is fucked up" and suggested that coming out somehow contradicts with Makonnen's lyrical content:
'They supported him?' Quavo asks, raising an eyebrow. 'That's because the world is fucked up,' says Offset. 'This world is not right,' Takeoff says. 'We ain't saying it's nothing wrong with the gays,' says Quavo. But he suggests that Makonnen's sexuality undermines his credibility, given the fact that 'he first came out talking about trapping and selling Molly, doing all that.'"
What?
Atlanta creator Donald Glover, well before the group's Rolling Stone comments, gave Migos a major shout-out at last month's Golden Globes ceremony. After mentioning "Bad and Boujee" in his acceptance speech, Glover declared Migos the "Beatles of this generation."
But anyway, follow Lakeith Stanfield on Twitter. You won't regret it: