When Jon Stewart returned to his old stomping grounds over at The Daily Show earlier this week, he had one very specific goal in mind: raising awareness for the healthcare crisis facing many 9/11 first-responders. Just days after that impassioned plea, Stewart decided to casually stroll onto Stephen Colbert's Late Show set on Thursday in an effort to further raise that awareness via the powerful CBS platform.
"After the sacrifice that our first-responders have made," Stewart began before an unimpressed Colbert interrupted his plea. "Boring!" Colbert shouted. "I hate to go pro on you, but you've been out of the game for a while. That's got no zazz. No one's going to listen to you unless you Trump it up a bit. The media won't pay attention to anything at all, unless you're Donald Trump."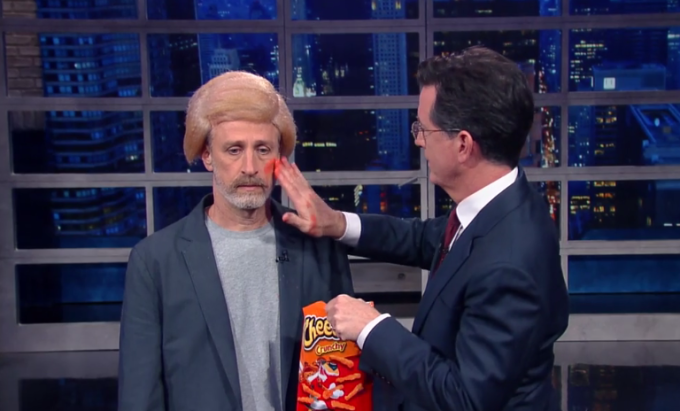 Thankfully, Colbert keeps a wig around (just "in case") and happened to have some dust from a bag of Cheetos ready to smear on Jon's face. Mathematically speaking, hideous wig + Cheetos dust = Donald Trump. Jon, of course, has had more than his share of expert analyses on the Earth-collapsing rise of Trump. "I'm done with this shit," Stewart said during a recent Stand Up for Heroes event in New York, referring to the long and exhausting narrative that is Donald's candidacy. "Done, done, done."