Chicago Mayor Rahm Emanuel, who is currently on vacation in Cuba, is now calling for widespread police reform in the wake of yet another senseless act of fatally flawed policing tactics. A Chicago officer shot and killed two people, a 55-year-old mother of five and a 19-year-old college student, on Saturday after responding to what should have been a simple domestic disturbance incident. Both victims—Bettie Jones and Quintonio LeGrier—were pronounced dead within an hour of the disturbing shooting, the Washington Post reports.
"It is clear changes are needed to how officers respond to mental health crises," Emanuel said in a statement obtained by the Chicago Sun-Times. "This afternoon I directed the new Acting Chief Administrator of the Independent Police Review Authority and the Interim Superintendent of Police to meet with each other as soon as possible to review the Crisis Intervention Team training, around how officers respond to mental health crisis calls. I have asked that they determine the deficiencies in the current training, and determine what steps can be taken immediately to address them."
The Chicago Police Department is already facing a Department of Justice investigation aimed at determining the impact of the department's policies on possible civil rights violations, a move set into motion in the wake of the police-perpetrated killing of 17-year-old Laquan Macdonald. Jason Van Dyke, the officer who fatally shot Macdonald, was eventually charged with first-degree murder before somehow posting his $1.5 million bond. Though Emanuel then forced the resignation of Chicago Police Department Superintendent Garry McCarthy, the mayor still remains at the center of that controversy following a New York Times op-ed that placed the bulk of the blame for what many have called a full-on cover-up squarely on Emanuel's shoulders.
In fact, many activists and prominent civil rights leaders are directly calling for the mayor's resignation following what appears to be a pattern of ill-advised policing policies. "I don't see how he can continue governing now," Reverend Al Sharpton tells MSNBC, as quoted by the Washington Times. "I think he's gone beyond the point where he can even govern…certainly from where I sit he should [step down] because [the people] have clearly said 'How do we trust this kind of administration to correct when you have this going so far off track and you're not even showing up and dealing with it?'"
With the renewed focus on the persistent problem of police brutality set to define 2016 just as much as it has defined the past 12 months, another look at the Guardian's The Counted project shows that the number of people killed by police in the United States in 2015 stands just as dauntingly preposterous as ever: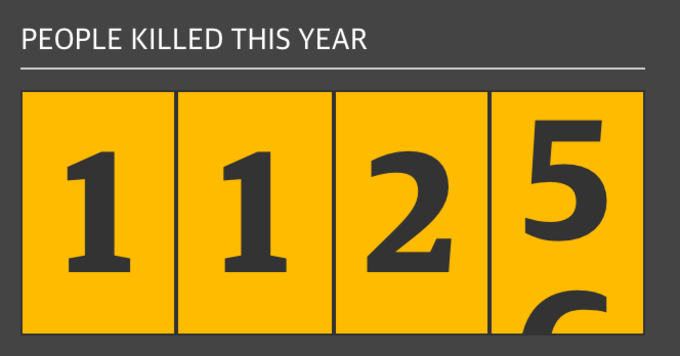 For more information on the police brutality crisis, visit here.