A couple nights ago a stripper by the name of Zola took to Twitter to bless the Internet with one of the craziest tales ever told involving another stripper named Jessy . It was an adventure straight out of a Iceberg Slim novel. Lines like "this nigga lost in the sauce and his bitch lost in the game" and the vivid imagery she was able to display while explaing has caught the attention of movie directors like Ava DuVernay. Needless to say, Zola has gotten a lot of attention. Her and the cast of characters are on their way to becoming household names, and will hopefully be made into a movie.
So when we saw a Twitter account claiming to be Jess, we got the popcorn ready. Sadly, though, it seems to be fake. Her tweets reek of troll and seem to be trying to one-up Zola's story. The first example was this tweet:

The troll then mentions dancing to Beyonce's "Partition" and Zola dancing to Nicki's "Truffle Butter." Then ruins it by saying Beyonce's album had just dropped. "Truffle Butter" didn't exist when Beyonce came out.
Then she starts doing marketing for Tidal:

"Live streamed on Tidal" being in all caps makes us think this account is an inside job. Is Roc Nation behind this?
Our suspicions were then confirmed by a reply tweet from Zola, an Instagram post by the real Jess, and these series of bullshit lessons the troll tried to teach us: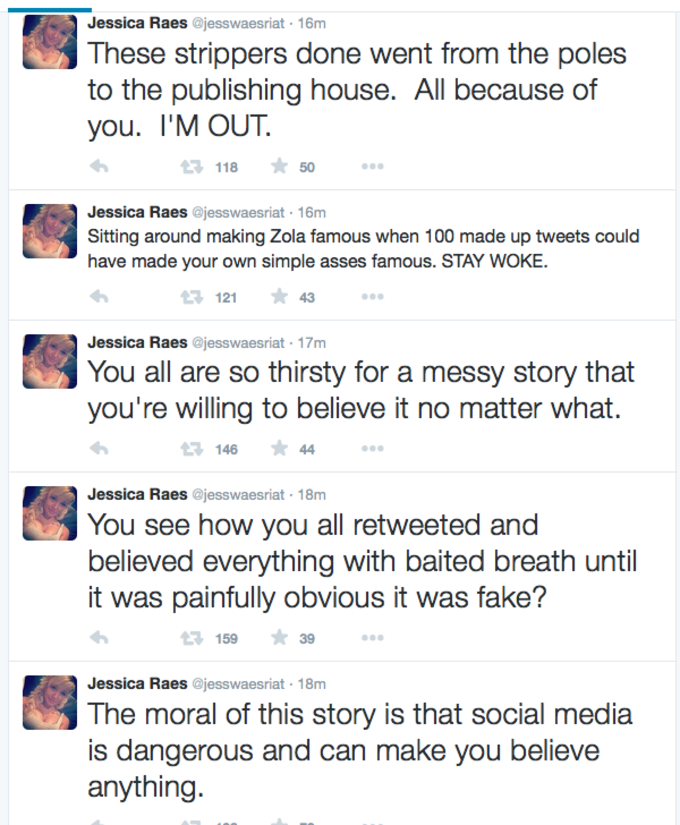 So we have a couple theories. This could either be a real-life Internet troll who hates their life and has entirely too much time on their hands, or it's a Roc Nation intern trying to promote Tidal. Either way this Twitter account stinks to high heaven. Here's the attention you wanted, and please don't play with our emotions again.