Brr, it's cold in here, there must be some—whether it's "Clovers" or "Toros" that comes to mind first, anyone familiar with Bring It On will know the cheer. Or the difference between spirit fingers and jazz hands. Or that if you want something in life, you have to... be aggressive! Be-e aggressive!
Bring It On, released on August 25, 2000, became an instant staple in the teen classic canon, creating its own language, iconic chants, and, for the most dedicated fans, dance routines to follow along. Directed by Peyton Reed and starring a teen dream cast of Kirsten Dunst, Eliza Dushku, Gabrielle Union, and Jesse Bradford, the cheerleading competition flick not only served a heaping dose of heart, soul, and sheer athleticism, but also portrayed the racial segregation and the rights to artistic ownership that still feel so relevant—if not more so than ever—today. The film follows high school cheer captain Torrance Shipman (Dunst), who finds out that her squad's last captain, Big Red, was stealing their championship-winning routines from another team, the Clovers, a squad from a mostly-black high school in East Compton. The revelation forces Torrance's team, the Toros, to come up with a fresh routine, and apologize to the Clovers, who, led by their fierce captain Isis (Union), finds funding to finally make it to the national stage to show their worth. 
Complex spoke to Captain of the Clovers, Gabrielle Union, about black girl magic, the relevance of the teams' rivalry in light of recent pop culture events (see: Nicki Minaj and Taylor Swift), and the teen movie role she wanted before being offered Bring It On.
Bring It On is a favorite movie of mine. I can't believe it's already 15. What about Bring It On has made it such an iconic teen movie, do you think? 
You know, the reasons people watched it and still watch it are so vast. Other than the dancing and music, a lot of people watched it because it highlighted sexuality—all kinds of sexuality. It made it very normal. A lot of people responded to that. A lot of people responded to the Eliza-Kirsten contrast. Then there's just the competition: the Clovers and the Toros.
Clovers in the atmosphere!
A lot of the dads were like, "Hot girls in cheerleading outfits? I was in! I bought it for my kids, but I watched for myself."
When's the last time you watched the movie in full?
In full? Probably the premiere. I'm not one of those people who watch myself. If it's on, I'll be like, "Oh, okay." But I won't watch the whole thing. It creeps me out. "There I am! Watch it again."
This was kind of your breakout role, right?
Yeah, I think so, but again, everyone has a different opinion. I definitely saw a marked change after Bring It On in my career trajectory. But even still, people think I was just discovered on Being Mary Jane. I'm still waiting for my breakout role.
You're a wonderful actor. What about the movie made you want to sign up for it as the captain of the Clovers?
You know what? It was the movie that a few of us took by default because the movie that we really wanted to be in was the bank-robbing cheerleading one. 
Sugar & Spice!
Yeah, we didn't get those parts. They didn't want to go black on any of the roles. Jesus. There were 12 motherfuckers in the movie. Not one can be black? Well, if this is a cheerleading movie, and they actually want to have some diversity, I think I'll go with the movie that wants me to be a part of it. They saw that I had value. For a lot of us, we were like, "This is gonna be the cheerleading movie." It was called Cheer Fever at the time—I'm glad they changed it. It wasn't helping the movie in terms of people wanting to do it.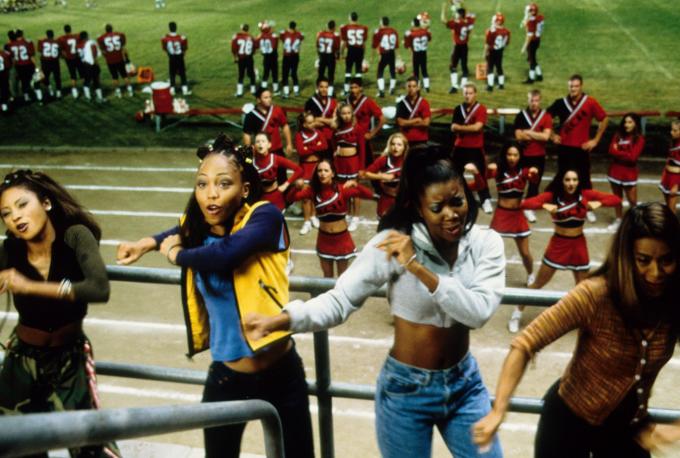 How do you feel about that racial division portrayed in Bring It On?
It was relevant then, and it's super relevant now. It's been relevant for a long time. As long as there's been art and there has been people not getting credit for their art or recognized at all. That is what appealed to me—the appropriation of our culture and winning awards and championships, using routines created and cultivated by black women who never got acknowledged, and couldn't afford to get on that national stage to be recognized. It's still so relevant when you look at Azealia Banks and Iggy, Taylor Swift and Nicki Minaj, and pretty much everything—the girl who played Rue in The Hunger Games…
Amandla Stenberg! I love her and want her to be in every YA movie ever.
Oh, my god. When I grow up, I want to be her. I follow her on Twitter and I'm like "Yes, that's what I want to say! Except I'm 42, and you're a child." All of the things she talks about. Or even Tyrese boycotting iHeartRadio saying, "If Sam Smith or Justin [Timberlake] or Ed Sheeran sang these songs and would be given this bigger stage, they're groundbreaking, but when black artists do it, we're relegated to other categories." Just pointing out that hypocrisy. It's still so relevant 15 years later. There's still that repackaging of black culture and putting blonde hair and blue eyes on it—which I think is one of the exact lines in the movie that [director] Peyton [Reed] came up with on the first day. It still speaks to a lot of people.
Speaking of Azealia Banks... She is now dating Jesse Bradford [who played Cliff Pantone]?
I kind of am here for the whole thing. Kinda genius! I'd like to think that Bring It On really opened him up to the possibility of black girl magic.
Yes!
We can trace that back to 15 years ago as well.
Were you ever wary that your character would veer off into the Angry Black Woman stereotype in any way?
Not necessarily the Angry Black Woman stereotype. I was more worried about the way it was originally written, that it would be a very exploitative film depiction of a black woman. I distinctly remember there being a line in the first draft that we had at the table read that I had to ask my husband at the time about. I was like, "I don't even know what this is." He looks at me like, "Oh, babe. It's WHAT-A-WHA?" If I'm not mistaken, Martin Lawrence would say that on his show. And then the line, "My nails are long, sharp, and ready to flash," like I was going to be moved to physical violence. I wanted to definitely steer it away from that and also what we shot didn't make into the movie: We [Torrance and Isis] ended up on the same team. Still competitive, but we end up at Berkeley. So I just wanted to make sure people still understood that Isis was incredibly smart and she was taking AP classes. She was a leader, that she wasn't some bad caricature. Yeah, she had every right to be angry. She was young and black. I don't have a problem with people being angry when they have been wronged, which is pretty common. 
So this scene was filmed? 
Yeah, we filmed it at UCLA, if I'm not mistaken, and we were both in college. It was just one little scene—just to show that we ended up on the same team at UC Berkeley.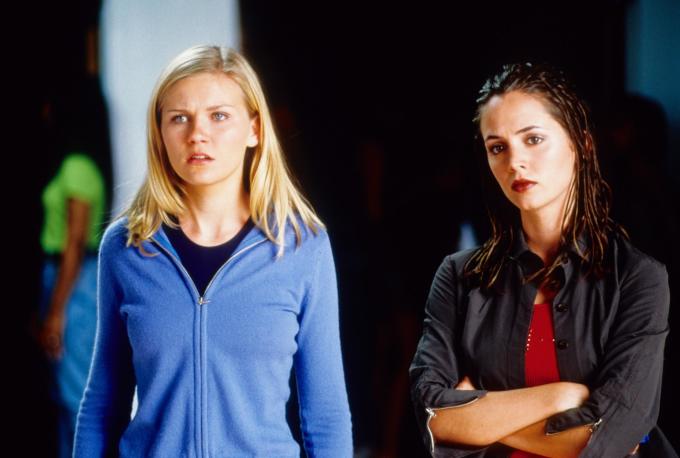 I do like that competitive friendship that forms at the end of the movie.
I don't remember if it's on the DVD, but they talked about it in another article that just came out—about us filming that. But we opted with the "Mickey" lipsync thing instead and people loved it.
It's an iconic credit scene. What do you think would be different about the movie if it came out in 2015?
Nothing.
Maybe the name Isis would not be the same.
Yeah, Isis would not be the name of the character. But not much other than that. It's still timeless. The music would be a little different. There would definitely be more twerking, but really, not much. I still watch cheerleading competitions to this day. I'm obsessed. It hasn't changed dramatically. The music has, and there's usually more twerking and certainly more sexual gyrations, but it's basically very, very similar. But I also noticed after Bring It On there were—not a ton—but more squads of color. Lifetime had a show called Bring It!, and it's about a black dance team. So we are getting more recognition for what we're doing now, what happens to it after it gets repackaged, and who gets awarded VMA nominations, Grammy nominations, and for what category and all of that. It's a challenge. The themes of cultural appropriation are relevant. We wouldn't have to change the dialogue.