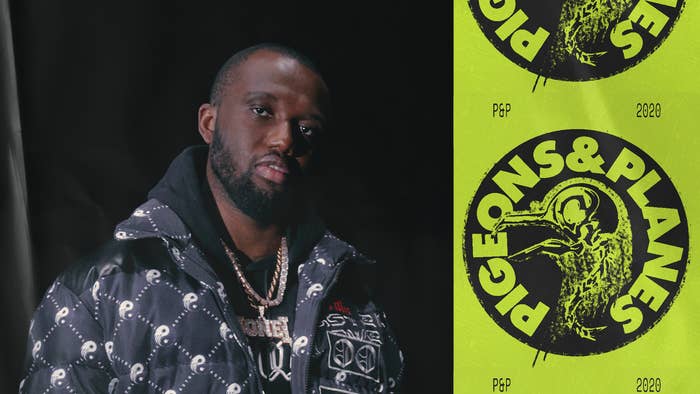 Where the heart lies is where Headie One finds home, as he told us backed by a Faith Evans sample on his breakout 2019 album Music x Road, and it lies with those close to him. "I'm just happy to be out, I'm feeling good and taking it all in," he tells me over the phone, merely a week after his release from prison and dropping a new project. "Things are a bit mad at the moment, but now I'm around all my people again and that's what I missed the most." All things considered, Headie sounds pretty jubilant when we talk. He's in the process of moving house which he says is a welcome change, not because of his previous circumstances but as a representation of the way his environment nourishes him.
As UK drill, initially inspired by Chicago street rap, grew to become the most popular and prominent youth-led sound in Britain towards the end of the last decade, Headie One has been one of the scene's talismans. Despite various run ins with the law, his upward trajectory has not been impeded. Of Ghanaian origin, Headie grew up on Broadwater Farm in Tottenham in North London, the scene and backdrop for most of the stories in his songs. Our environments shape us, especially those with deep histories and legacies—Broadwater Farm has historically been over-policed and surveilled, with two powder keg moments being the 1985 and 2011 riots. Headie, and others like him, are the product of the London Riots of 2011 and the increased policing and surveillance that followed. Through drill, we hear the stories of people swept under the rug, pushed to the fringes of society. 
Last year, the north London rapper delivered a bold stroke with Music x Road. It was a statement project as he expanded his own soundscape, combining elements of R&B with drill on some tracks ("Home") and slowing the tempo down on others ("Back To Basics"). Unfortunately, as he was hitting new heights and reaching new audiences, the rapper formerly known as Headz spent a month in prison earlier this year. The release of GANG, his new project with Fred again.., symbolises his commitment to self-expression through art.

In some ways, it's his All Eyez On Me moment: In the eyes of right-wing tabloid media he's Britain's Most Wanted, but he also wrote the majority of the album while incarcerated. Fred mentions that they managed to complete the album in five sessions, emphasising Headie's intent to have this project out in the world so he could further tell his story. Music x Road included his most open music yet, but there was a sense that Headie was leading us into a deeper story of his life, which he explores on GANG. 
Now isn't the time to talk about prison and life on the wing. Headie's still adjusting to a normal routine again after being out for two weeks, but what he came home to was anything but normal. "What's inspired me to change my life is all the negative stuff I've felt and that's the place I write from. There's one line where I say, 'I got pain in my chest but I find comfort in it,' and it was cathartic being able to express that," he says. Headie's truth telling in his writing shouldn't be what earns him praise alone. His cadence is languid but it works for him because the color is in the detail of his writing. "It's my pa's birthday, I'ma gift him some land / Cah he used to wash my shirts, done that shit with his hands," he says at the end of "GANG."
His dad isn't the only he holds close, as brotherhood and friendship are sentiments that reappear throughout the album, and are coded in the title. Headie is contemplative and humble as ever, the only track where he really flexes is "Charades." Even then, there's a balance, as he also recognises what success brings. "Feds lookin' for someone that they can throw a charge on," he says later on "SOLDIERS." Headie's always found introspection in his writing but the soundscapes Fred builds around his words gives them an extra weight on GANG.
"We caught a little moment where there was an overlap of our intentions when we were writing, without really making some sort of statement," Fred says, joining the conversation. "We found the meeting point, a venn diagram kind of, where the raw truth in Headie's lyrics met the sound I was trying to craft around them."
"For me, it wasn't about switching up the flow or lyrics really but it was a chance for me to show people what I can do outside of the drill sound," Headie adds. "Judge Me," featuring FKA twigs, might be the best reflection of that sentiment—a hollow, airy track without a distinct drum pattern which brings Headie into a new sonic landscape. Some fans criticized the new sound, however, this is Headie's idea of transformation. "Heads just tell the truth and whenever you clock that you're in a space where an artist is telling theirs, everything afterwards just feels right," Fred says.  
"I kind of like that people didn't initially like the album," Headie tells me. "We know what we've done is really important, especially to us," Fred adds. "There's no great body of work that hasn't been subject to some sort of controversy and I'm not gonna compare us to Kanye, but Yeezus is the album I think of. There's a great quote that says 'the key to failure is trying to please everyone' and I feel like that about GANG, sometimes we need something to throw people off once in a while."
"Heads is fearless, you have artists that bend and redefine who they are," Fred says, singing Headie's praises once again. Ignoring the criticisms regarding his approach to GANG, those words are the kind of morale boosting he needs right now. He wants to break the cycle that he's in and his words express that intent, but in order to do so, having a little belief in the risks he's taken musically goes a long way.
Headie's conscious of how he's perceived through his writing. While no drill artist, or any for that matter, should be discriminated against for their artistic expression, he's learned to find a balance—hence Music x Road. "I've always tried to be an open book, I don't wanna be cryptic with my writing, and because of where I'm coming from, the story that I'm telling can't be one-sided,"he says. 
His writing on GANG signifies a conflict between his former and present life, allowing us to see the humanity in his own story which has often been sensationalized as right-wing media seeks to scapegoat drill as a cause of youth violence. However there's a duality that isn't so black and white when it comes to road life. "I ain't tryna find someone to blame my past on / Still got machines, not the type to put your card on / Yeah, I been through so much fuckery but, still yet, we march on / In my cell, countin' down days 'til March done," Headie raps on "SOLDIERS," an expression and admission of that duality.
GANG, still just two weeks old, has yet to find its place among Headie's pantheon of records, but beyond the music it marks a serious sign of intent from him. Now that he's back at home with time on his hands his transformation isn't complete. Maya Angelou's title "I Know Why The Caged Bird Sings" is an apt description for Headie One—someone with writing as vivid and worldmaking as his needs all the room to roam.