For a time, Germ was your favorite SoundCloud rapper's favorite SoundCloud rapper. Before established himself with solo releases, he was racking up hundreds of thousands of streams providing a jolt of off-the-wall energy on tracks by $UICIDEBOY$, Fat Nick, and Pouya. When he began to branch out on his own, with the mixtape Bad Shit (Bootleg) and the $UICIDEBOY$ collaboration DIRTYNASTY$UICIDE, he established himself as a raucous spark plug with a nasally flow and rhyme schemes that recalled a certain Academy Award-winning Memphis rap crew.
His first album on G*59 Records, GERM HAS A DEATHWISH, is a fitting encapsulation of the 26-year-old artist's career to date. It features his close friends $UICIDEBOY$, GNAR, and Pouya, as well as production from Germ himself, Yaygo, and Travis Barker. The lean, 25-minute record is all forward momentum, opening with the menacing "RAMBO" and concluding with the eerie "AWKWARD CAR DRIVE." 
Transitioning from a stellar supporting actor to a lead role is tricky, but Germ shows plenty of promise on DEATHWISH. Firmly in his mid-20s, Germ is a relative veteran in this current rap era, and he speaks about his turn in the spotlight with a mix of excitement, appreciativeness, and apprehension.
We sat down with Germ in New York and talked about adjusting to life on a label, his unreleased Lil Peep collaboration, and the Atlanta skate scene.
I'm sure the opportunity to sign with G*59 was on the table for a while. Why did this feel like the right time to do that?
I had other situations that people were talking about, other options, but [$UICIDEBOY$], they always talked about having a label on some Cash Money shit. When it was time, they were just like, "Yo, what's up? Wanna do it?" And it was a no-brainer. I went with the people I'm most comfortable with, the people I've been making music with.
The title and cover of your new project are allusions to the Baker Has a Deathwish skate movie. Why did you do that?
That's what I grew up on. I quit football and then started running in the streets and skating. When I found out who Antwaun Dixon is—he's the most prolific dude ever on the skateboard—I was like, "Damn, that's who I want to be." My first mixtape was Badshit (Bootleg) because Baker used to be Bootleg Skateboards. They had a little video they did called Bootleg, then Baker Bootleg, Baker 2G, and then Baker Has a Deathwish. So I did Badshit (Bootleg), then GERM HAS A DEATHWISH. I want to do the Hijinks tape because it's kind of like the same thing. And then one more, probably. 
What's Atlanta skate culture like? It's not a city you hear associated with skating as much as somewhere like Los Angeles.
It's small, mad small. It can be cliquey, but everybody fucks with each other. It's also a lot of DIY shit, there aren't too many parks. It's a lot of abandoned building skateboarding. It'll be an open field and a concrete slab. You can't even see it from outside, but you go in and it's like 30 kids in there skating, vibing.
All I give a f*ck about is authenticity. I don't really care for too much other sh*t. Just be you and you'll be good.
You and GNAR have worked together a lot, and he appears on "NECKLACE" off DEATHWISH. How did you two get to know each other?
Just through Atlanta skating. It's crazy how I met that man, too. The first time I ever seen him, he came to a local skate park and we were just skating around. I told my homie, "Hey, you see that bag? Go take that bag." He stole the bag, we left. We threw the whole backpack out the window because there was nothing in it but skate clothes. Then a month later, I come to find out it was bro's shit. I told him, "Yo, remember that bag? Yeah n***a, that was us." You're always gonna see the same person. Shit's mad small, you can't run away from no problems.
I read that you were the first person to really encourage him to rap. Is that true?
He was always like, "Yo, I want to do a song eventually." I said, "C'mon." I was already with [$UICIDEBOY$], but I wasn't going crazy. When he said he wanted to rap I told him to do it, then we did that Big Bad Gnar Shit tape in like three sessions.
Do you try to make music that speaks specifically to skaters?
I be talking like that if you really listen, but I'm also talking tough guy shit. A skater's not finna come tell you, "Hey, I'm fucking sad." He might come to the skate park and fuck it up like, "I feel shitty today, let me go fuck the skate park up." If you have a good day skating, then you're happy again.
It's about channeling the anger and sadness into something.
Right. I just do it as best as I can. I don't want to do nothing else. Just like how I go buy clothes is how I make my music. If I don't like it, I'm not going with it. All I give a fuck about is authenticity. I don't really care for too much other shit. Just be you and you'll be good.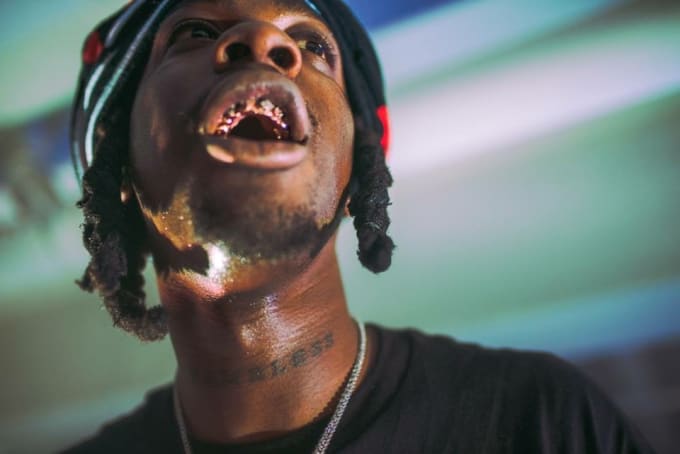 The first time I saw you perform with $UICIDEBOY$ was at an all ages show and I was really stunned seeing this whole community of teenagers come together. Even though the music is heavy, there seemed to be a lot of support and understanding in the room.
It's intense, but it's uplifting. That shit is like church for those kids.
You don't necessarily fit many people's notions of "Atlanta rap." How do you see yourself fitting into the city's current rap landscape?
It's not the priority, but I feel like you've got to know I'm from Atlanta, even though I'm not making Lil Baby music, super trapped out shit. If you watched Father and all them, when that shit was super popping I wasn't rapping seriously yet, but I saw all of that and was like, "Man, that's hard." That died down and it went straight back to Young Thug and trap, but I miss that kind of turnt up, Father-type different shit. We're really trying to fuck it up.
Travis Barker produced "UDIGG," how did you connect with him?
He did some shit with GNAR, and then we had the Big Bad Gnar Shit tape out, so I guess through GNAR and the people he was working with [at the time]. Travis followed me one day, I followed him back and sent him a DM, just an emoji or something. He responded like, "I fuck with your shit." The $UICIDEBOY$ had a show and he came and we chopped it up real quick.
Then, I posted a snippet of a song and he commented on it and sent me a DM like, "Let's work." One day I got a random text that said it was from Travis Barker and he told me to come through his session that night. I went, we did "UDIGG" and some other shit that's currently unreleased. I think he's gotten to the point where he just loves making music. That man is rich as fuck, he doesn't have to be in the studio making beats. He's out here patrolling like, "Oh, you've got the juice. I'm going to throw some more juice your way."
It must've been validating to get a co-sign from someone who's been around for that long.
All my homies were like, "Yo, what the fuck?" That's not really my shit, but seeing my homies' reactions, they're freaking out. My homie Zac from FTP hates everything, he's a raw ass dude. And he was like, "Bro, I have DTA tatted on me. I'm his biggest fan."
So you didn't really grow up listening to that kind of pop punk music?
Not really. I liked hard-hitting Three 6 Mafia type-shit. My shit isn't no emo nothing, none of that sad shit. I'll make some sad shit, but it's not the Lil Peep or XXXTENTACION type of vibe. That's not me.
It's been dope to see you and $UICIDEBOY$ really carrying the torch for Three 6.
In tenth grade, my boy was putting me onto new music, stuff like Gucci Mane and Waka Flocka, but I never fucked with music as hard as I did when I first heard Three 6 Mafia. I had to dive in, figure out who Lord Infamous was, who Juicy J was. I never did that with anybody else, that was just my shit. I met the $UICIDEBOY$ and was like, "What the fuck? This is perfect."
You made a song with Lil Peep that didn't wind up on DEATHWISH. What's the status of that?
I still have it. I wanted to put it on this tape, but the way people are using Peep's name, they're really stretching that shit. I just wasn't feeling it and preferred to keep it. It also didn't really go with the vibe of the tape, so I decided to hold off. I didn't want to be a part of everything that's going on right now, shit around him is kind of messy. I didn't want to force it just to have it on there, but maybe I'll drop it as a single eventually.
You were friends with him, right?
He was kicking it with us for the first six months he was in L.A. He stayed with us. I remember he came in a Gap shirt and we gave a DIRTYNASTY$UICIDE shirt that he wore for like two weeks. I remember telling [$UICIDEBOYS DJ] Crystal Meth, "Bro, this n***a is tight as fuck."
No more people saying, 'Weren't you that SoundCloud rapper?' B*tch, I'm in an arena now.
How much material did you record for DEATHWISH? What was it like narrowing it down to a lean 25 minutes?
There was a month, October or some shit, where I was going to the studio for GERM HAS A DEATHWISH, and that was around the time when I really knocked it out. The last half of it took a full month. That shit was done in early November, before Thanksgiving. I was trying to put it out before the year was over, but there was label stuff. We went to the meeting and they were like, "You're projected for March."
That must have been a big adjustment for you, since you'd previously been able to drop music whenever you wanted.
The last song I did with Shakewell, "Slutwalk," I had that song for like a year before I was like, "Fuck it." I was at my homie's house and he was like, "Whatever happened to 'Slutwalk?'" I said I'd never dropped it, and he told me I was tweaking and that I hold shit for too long, so I was like, "I'll drop it right now." I went on SoundCloud and dropped it on a random ass day, and that was how I was used to releasing music. Now it's like, I went into that [label] meeting like, "Oh yeah, I'm done. What's up? Let's drop the shit this month." When they told me March, bro—this was in like November. I was kind of hot [about it], but everything worked out how it's supposed to be.
What's the reaction been to the project and to you focusing on your solo career?
I was scared, even for the release party. I hadn't been doing shit, I was gone for like a year, I didn't think nobody was going to come to the release party. I was at the crib tweaking over it, but mad people showed up. 700 or 800 people came to The Berrics [in Los Angeles]. Kids were trying to skate and shit. I'm reading comments and people are saying I leveled up. It made me feel like I don't need to change shit, I just need to keep doing it. I've never dropped more than one project in a year, and I'm already ready to put out another one.
Right now a lot of artists who blew up on SoundCloud are entering what feels like a new phase of their careers. Since you've been on for a few years now have you changed your approach at all?
Before, I was like, "Fuck a press run." There are certain things you've got to do to get to where you want to be. I'm trying to smash out a stadium or something. No more people saying, "Weren't you that SoundCloud rapper?" Bitch, I'm in an arena now.