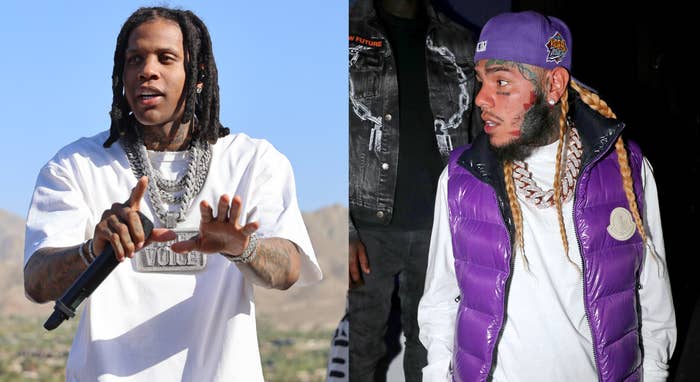 Lil Durk said he had an album coming at midnight—as did his rival YoungBoy Never Broke Again—and in the interim he decided to keep fans fed with some entertaining 6ix9ine DMs on Instagram. (He wound up delaying Almost Healed, while YoungBoy did deliver Richest Opp.)
Durk got straight to the point with 6ix9ine—also a longtimefoe—starting the exchange with an invitation to box in Dubai for $50 million of the Chicago MC's own money.
"I dont want you hurt or dead you a kid from the burbs," Durk messaged the controversial rapper on IG. "I got 50 million my own money without help to fight you on tv in dubi [sic]we can double the money 3 rounds…..go talk to your rich friends lets set it up setember – stop the violence lol."
6ix9ine countered by saying he thinks Durk is just "on album press run" and would rather get straight to business. While Durkio emphasized in his post's caption that he wants to do things "safely," Tekashi isn't interested in his terms.
"But I wanna fight you for no money p***y. For free. Come to Miami let's get a hotel room and just throw down 1 on 1," the 27-year-old wrote.
Durk, 30, laughed him off and landed a hilarious closing blow. "Aw naw I'm cool enjoy your day….I'm not worried bout sells I just wanted to beat your ass fir some money."
In his caption, the Voice of the Heroes artist said, "Stop the violence put the guns down big man! 50million of my own money to box in Dubai safely, let's go Migo – September? [Gervonta Davis] walk me out 🏆🤲🏾."
He deleted the IG post a couple hours later.
Thought Durk didn't put out his Almost Healed album, he did give fans the J. Cole-featuring single and music video "All My Life."