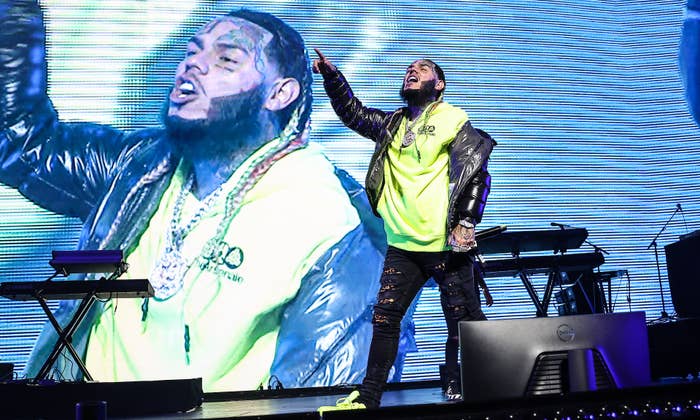 Three men accused of a March 21 assault on 6ix9ine were arrested in Florida on Thursday.
The Associated Press writes via a Palm Beach Sheriff's Office representative that 43-year-old Rafael Medina Jr., Octavious Medina, age 23, and Anthony Maldonado, 25, are now in custody. They were seen on surveillance footage and social media clips.
"The three suspects were being booked into Palm Beach County jail Thursday night, deputies said," reads the AP's brief report.
Their mugshots have also been released.
6ix9ine was taken to the hospital with injuries to his jaw, ribs, and back. One clip that instantly started circulating showed the 26-year-old with a bloody face, walking away in socks while hollering, "Y'all n***as jumped me."
"He was attacked in a Sauna at a gym by three or four thugs who beat him up (he tried fighting back)," his lawyer Lance Lazzaro said in a statement provided to Complex. "He had cuts to his face and bruises. Employees heard the disturbance and the perpetrators fled. Police in South Florida were called and he was transported via ambulance to a local hospital."
There was no world where 6ix9ine being assaulted in an LA Fitness sauna wasn't going to draw an abundance of attention. Tekashi's bodyguard issued a challenge to the attackers ("4 vs 1 y'all weak ass bitches against me..you win I pay you 10,000$ n if you lose you die"), while on the other end, Boosie Badazz suggested a GoFundMe for the now-arrested men, tweeting in all caps, "We gotta start rewarding the real ones."
The mother of the controversial rapper's child said their 7-year-old daughter was "embarrassed," while a joyful Jim Jones hit the Milly Rock and reminded 6ix9ine "you gotta be sturdy out here."