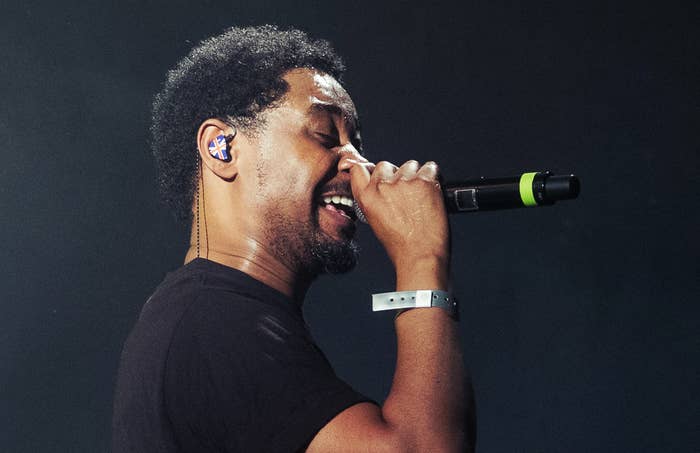 It's been nearly ten years since Danny Brown put out his debut studio album, The Hybrid. Now, closing out the decade, he reaches new heights with the thrilling uknowhatimsayin?, a relatively stripped-down album (by Danny's standards) full of humor outside of his traditional wheelhouse. It's pitch-perfect in tone, style, and pace.
Since The Hybrid, Brown's personality has outshined any signifiers that didn't involve his (formerly) missing tooth or skinny jeans. On that album, he told a legendary story about G-Unit refusing to sign him because he favored skin-hugging denim in favor of a baggier cut. Instead, he landed a deal with the Brooklyn-based and A-Trak owned Fool's Gold Records. With XXX, his debut for the label, we were introduced to a different Danny Brown: a rapper equally interested in punchlines as he was in Xanny bars. This was a portrait of a breakdown, in which Brown presented himself as a man teetering on the edge, but firmly on the healthy side of it. It was remarkable to imagine that he could rap—let alone talk—if he was truly on all the drugs he rapped about. He was a broken man with an infectious smile and an airhorn for a voice.
After XXX, Danny Brown released Old, which to a subset of his fans, is still his crowning achievement. And, if you back up a little bit, there was also the release of "Grown Up," a fairly straightforward boom bap beat pushed around by Brown's distinctly strange voice, which somehow introduced him to a more mainstream audience. Danny's LPs have always been a little too weird for the radio and headliner festival stages, but he's always been knocking on that door, making use of a personality that's equal parts relatable and absurd to inch his way towards a larger audience. Old is big and bold; sprawling yet concise. Instead of engaging with his various struggles—mental and physical—Brown tests them, dissecting the tics that lead him to extremes, and pushing back against them. It's a profound artistic statement: the special kind of moment we rarely witness, in which an artist realizes their power in real time.
By stripping his persona to its bare essentials, Danny Brown has made himself whole. He's always been our favorite character, but uknowhatimsayin? reveals the actor behind the part.
At that point, Brown's career arc was fairly well-established. He was a big indie artist, known loosely within the mainstream, but also ready to negotiate a deal with the preeminent experimental electronic label, Warp Records. Brown's world seemed to be fully-formed by the time he released Atrocity Exhibition—a funhouse mirror remix of his previous albums. It was fresh and exciting, but it also confirmed something Danny Brown fans had known for a while: his albums shouldn't be sixteen tracks or longer. He works best in bursts, and that length simply doesn't suit his style. 
That's what makes the 11-song album, uknowhatimsayin?, so exciting. Yes, the Q-Tip executive producer credit is thrilling, as are the JPEGMAFIA and Run the Jewels features, but Danny Brown has always been a singular entity not quite able to control his ambition. For fans of Brown's most exotic leanings, this may be a blasphemous statement, but uknowhatimsayin? is Danny Brown's best rap record. At 11 songs, it's concise and refreshingly to the point. It delivers on every promise Brown has ever hinted at, and the quality of his bars takes precedence over the absurdity he hurls at beats. That formula worked for a decade, but seeing another side of his technical ability is refreshing, and doesn't tire quite like his flow has over the course of full albums in the past.
The Q-Tip executive producer credit is important here, but the minimalist spirit doesn't catch on unless the man in charge buys in. On uknowhatimsayin?, Danny Brown uses the spacious expanses of the production to assert himself as a masterful emcee in a way he's never done before. When the early singles from the album were released, it felt like an awkward fit. Here was an emcee who had always chosen maximalist beats, suddenly pairing it back and rapping about large girls at the laundromat. But within the context of an entire record, the singles fit perfectly. There's a singularity to this album that Brown has never been able to hone in on over the course of a full record. It would come across on large chunks, but then slowly die out. On an 11 song LP, Brown rules over his territory like never before. 
"Change Up" opens the album with Danny alone, over a dusty drum loop pushed atop a dustier guitar sample backing him up. It feels different—quieter, more contemplative, more room for Danny to shine. But his unique writing style still pops up. At one point, he raps, "Hoes on my dick 'cus I look like Roy Orbison," and it's perfect. The old Danny is back again.
Uknowhatimsayin? features a balanced juxtaposition of silliness and artistry, which Brown has never quite accomplished before, in part because his albums have been too long to stay consistent throughout. But over eleven tracks, the Blood Orange chorus on "Shine" hits extra hard, and the closing notes of "Combat" come too soon (although it's a fitting ending). 
For the first time, Danny Brown leaves us wanting more. There's a bit of mystery, even though the missing tooth has been replaced and the airhorn has quieted a decibel. By stripping his persona to its bare essentials, Danny Brown has made himself whole. He's always been our favorite character, but uknowhatimsayin? reveals the actor behind the part.