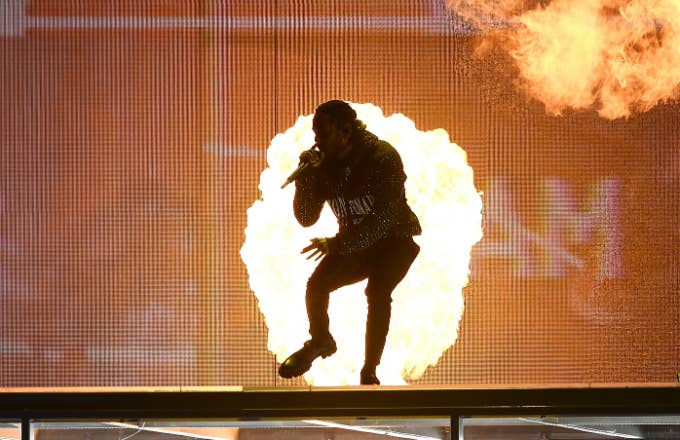 If you're like me, you spent the bulk of your 2016 waiting on Kanye West and Kendrick Lamar to release a grand total of 40 presumably great tracks together. West teased as much on his now defunct Twitter account in February of that year, outlining his "40/40 club" plans. "Me and Kendrick got 40 songs and me and Young Thug got 40 songs," he tweeted at the time.
Now, one month after their "Madlib Freestyle 6" popped up, a pair of West x Lamar demos have surfaced. One is entitled "Liberated (FSMH DEMO)" and, clearly, is an alternate version of what would eventually become Life of Pablo's "Father Stretch My Hands Pt. 1." After a rough version of the recognizable "I just wanna feel liberated" chorus, Lamar delivers a verse that opens with a nod to Michael Jackson's "Smooth Criminal" that eventually gives way to a welcomed Area 51 shout-out:
On the other demo "Don't Jump," West and Lamar welcome listeners to "America's future" over a fucking incredible beat. Unfortunately, both surfaced demos sound like recordings of recordings, i.e. not CDQ.
West and Lamar's officially released collaborations include the Pablo cut "No More Parties in LA" and the one-off single "All Day," a reference track of which later surfaced featuring a verse from Lamar. Back in 2013, West brought Lamar out on his Yeezus Tour. If you missed that once-in-a-lifetime tour, then I wish you peace and tranquility as you struggle with the perpetual FOMO in the years ahead. It's going to be rough.
Both of these latest demos appear to stem from Pablo-era recording stints, though it's worth noting that the "No More Parties" beat was actually penned during My Beautiful Dark Twisted Fantasy sessions.