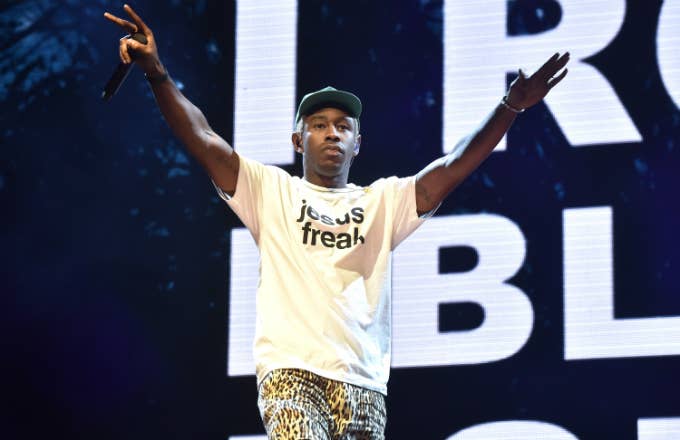 "Tacos are great with bar-b-que sauce, I'm excited."
The words above are Tyler, the Creator's official statement to the Hollywood Reporter and similar outlets regarding his just-announced new deal with Sony Pictures Television. Tyler and his producing collaborator Lionel Boyce's first-look deal with Sony will include the development of potential television and "digital properties" projects. The deal is said to include both scripted and unscripted creations.
"To be partnering with the creative genius of Tyler, the Creator and Lionel Boyce is a dream come true for us as we've long been fans of their work," Jeff Frost, president of Sony Pictures Television, told THR Wednesday night. "Tyler's unconventional ingenuity is unparalleled, and we are excited about the prospect of what we can create together." Additional details on the deal have not been announced.
Tyler's previous television projects include Adult Swim's Loiter Squad and The Jellies, which premiered last  year and features the voice talents of Earl Skakel, AJ Johnson, Phil LaMarr, Kilo Kish, and more. In 2015, Tyler announced that Loiter Squad had run its course. "But that shit was sick!" he toldWeld at the time. "It opened the doors up for other things that my boys want to do," he says. "That was a great thing, but we're off that."
Next month, Tyler's annual Camp Flog Gnaw Carnival hits Los Angeles.