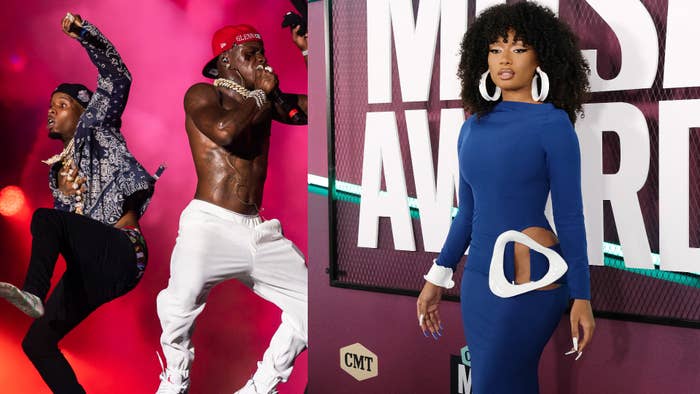 A newly reported sentencing memorandum, filed this week, reveals that Tory Lanez and DaBaby allegedly tried to "rush the stage" during Megan Thee Stallion's performance at Rolling Loud Miami in 2021.
As first revealed by legal affairs reporter Meghann Cuniff, the memorandum—filed by the State of California—makes mention of Lanez's appearance at the festival and points out that it violated a protective order that was in place at the time.
"It was also brought to the victim's attention that the defendant and [DaBaby] attempted to rush the stage during her performance," prosecutors said in the doc, adding that Megan was "not previously aware of nor did she consent to" Lanez being at the venue.
As previously reported, DaBaby brought Lanez out as a surprise guest during his own Rolling Loud set.
Prosecutors argue that Lanez, who was convicted in December of assault in connection with the 2020 shooting of Megan, should serve 13 years behind bars.
"I want to start by highlighting the bravery of Megan Pete," Los Angeles County District Attorney George Gascón said when announcing the conviction. "You showed incredible courage and vulnerability with your testimony despite repeated and grotesque attacks that you did not deserve."
In May, Deputy Los Angeles County District Attorney Alexander Bott told reporters he expected Lanez to get at least nine years on the conviction. Bott pointed to the severity of the situation, noting that any instance of someone firing a gun at someone "deserves serious consequences."