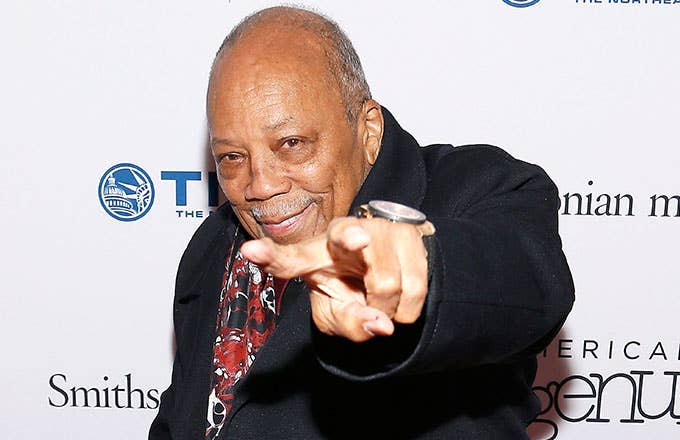 The planet is still reeling from the contents of Vulture's instaclassic Quincy Jones interview. After just a single day of existence, the article has spawned multiple offshoot narratives that will likely continue to play out in headlines for the next several days. For example, T-Pain tweeted out a firm response to Jones' claim that he "didn't pay attention to the details" when recording a "P.Y.T." cover.
According to writer David Marchese, however, this was actually just the PG-13 version of their fateful conversation.
"I think, you know, I asked him what I thought was a pretty generic question about Michael Jackson about, you know, what's something people don't get about Michael Jackson, thinking that he would say he was a better songwriter than he was given credit for or something like that, and he was like, 'Oh yeah, he stole songs,' and I was like 'Huh, so that's how this is gonna go,'" Marchese told BuzzFeed News Thursday.
Asked to reveal any moments with Jones in which he was totally thrown and forced to break character as an interviewer, Marchese confirmed there were several. "So when he called me a motherfucker, that's one where I'm like, 'OK, I'll take a minute and figure out if you're saying that playfully or if you're actually calling me a motherfucker,'" he said, noting that the "fuck a mailbox" moment was similarly striking in its candidness.
"I don't even know if I want to get into this too much, you know, this is like the PG-13 version of how the conversation actually went," Marchese added. "There was stuff said that, like, this is not, I cannot, I'm not going to wade into these waters. So there was a lot of like jaw-drop moments."
Even if this is the "PG-13 version," Jones still managed to gift the planet with an assortment of new quotes to frequently use out of context, including:
"He'd fuck a mailbox."
"Jimi Hendrix was out there fucking up the national anthem."
"It's Trump and uneducated rednecks."
"The rich aren't doing enough. They don't fucking care."
Hell, why not read the whole thing again?